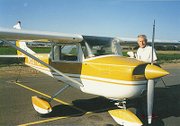 Dick Berk, a retired police officer and Sunnyside native, has seen a great deal of changes in his 86 years of life.
He served in World War II and Korea before becoming a police officer for the city of Sunnyside.
Berk admits he has developed many interests, including geology and preservation of wild turkeys. Another interest, aviation, has him marking another achievement for which he will be recognized by the Federal Aviation Association (FAA) on Thursday, Feb. 7, in Yakima.
He will be the recipient of the very rare Wright Brothers Master Pilot Award. That award is presented to pilots who have a perfect flying record spanning 50 years.
"That's more than half of aviation history," noted Berk.
He said the FAA created the award for those rare pilots who have contributed to aviation without incident.
Berk's interest in flying planes began when he was just a young boy, watching the barnstormers fly into Sunnyside on an airstrip that spanned from where Valley Auto Parts is on South Sixth Street to the current Sunnyside Law & Justice Center.
He said he and other youngsters in the small community would look forward to the barnstormer landings because if the youngsters scrounged up enough money, they could pay for a 15-minute ride in one of the planes. It cost $1 for a ride.
It wasn't until 1962 that Berk obtained his pilot's license, though. He spent his youth in Sunnyside, went off to war two times and came home to serve as a police officer.
Recalling those early years establishing himself in the police department, Berk recalled an evening after the 8 p.m. curfew when he accidentally stumbled upon some escaped prisoners from Montana.
He said it was about a year after he became an officer. He was out on the quiet roads near some farmland on the edge of town. He spotted some rabbits and began shooting at them.
Up popped three men, with their hands up, ready to surrender.
"I didn't know what I was going to do," Berk said.
He called in the local Washington State Patrol trooper and the police chief, although it was 1 a.m.
Berk went home and left the three men to the care of his superiors and upon his return to the police station the following shift learned that the men had escaped from prison. He also learned the men intended to harm him when they saw him approaching, but his shooting abruptly changed that plan.
It was a few years later that Berk decided to pursue his interest in flying. He wanted to see the countryside and Charlie McAllister of Yakima was his instructor.
The airstrip between Sixth Street and Swan Road was no more. Instead there was a small gravel airstrip where the Sunnyside Municipal Airport is now.
It took Berk a year to earn his pilot's certification because there was more instruction than is required now. He noted lessons weren't taken every day and radios didn't exist in the cockpit.
Shortly after obtaining his certification, Berk purchased his first plane. He purchased another before buying a brand new 1966 Cessna 150, which he still flies.
"I bought it (his third plane) for the price of a tank of fuel," Berk said, stating it wasn't terribly expensive to own a plane when he began flying.
Of his Cessna he said, "We grew old together and we stayed true blue to each other."
Berk has logged approximately 4,000 hours in the air since first obtaining his pilot's license. He said he has been particular about flying in fair weather.
"I'm a live coward," he joked, stating he has learned from the mistakes of others about the importance of carefully selecting the days on which one takes to the air.
"That's not to say I haven't had my Maalox moments," Berk continued.
He said he once ran out of fuel at 5,000 feet. He was flying over the Deschutes River "...and everything went quiet."
Knowing his problem, Berk declared an emergency and landed safely on the ground.
"The pilot makes the ultimate decision...that day is an example of the importance of planning ahead," he said.
Berk said there are some events, however, that a pilot cannot plan.
He experienced just such an event while flying over timber near White Swan. A valve broke and his plane lost a cylinder. He thought he would land on a friend's airstrip in White Swan, but his trusty bird was still flying well and he was able to make his landing in Prosser.
"That's where I could tear her apart and put her back together," Berk noted.
He said the world of aviation hasn't changed entirely, except perhaps when it comes to costs. A Piper Cub made in Yakima, which cost about $800 in the early days, now can cost about $200,000.
However, many of the engine designs in today's planes are the same as they were when he was a younger man.
"Those old engines have been proven most reliable," Berk said, stating companies often do not want to certify new engines because of the old adage, 'If it ain't broke, don't fix it.'
Berk said he is honored to have lived as long as he has while seeing first-hand the changes in aviation. He is also honored the FAA will be recognizing the time he has spent in the air.
The award will be presented at the Red Lion Inn in Yakima on Feb. 7. There will be a dinner at 6 p.m. for those interested in attending. Berk said anyone interested in attending the dinner can call him at 837-4243 so he can let the FAA know in advance how many will be attending.
Those wanting only to attend the presentation can do so at 7 p.m. on Feb. 7.