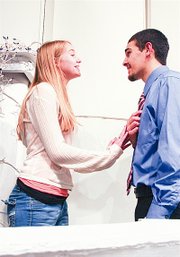 Chemistry isn't just for the classrooms. The Sunnyside High School drama club has come up with a little chemistry of its own as the students prepare for their winter production.
If the mixture of the classics, modern-day music and an electrifying on-stage romance is what you crave, Sunnyside High School is the place to fill your hunger next weekend.
The drama club is putting together a production of Romeo and Juliet. The play, originally written by William Shakespeare, has been condensed into a 90-minute theater production that is to be performed by a cast of veterans and newcomers to the SHS stage. This modern-day take on Romeo and Juliet will take the audience center-stage to a romance so electric that many may leave with chills.
What's more impressive, however, is that this student-directed play will capture two high school actors in their first ever on-stage production. The lead characters, Mardy Lopez (Romeo) and Jessie Winchel (Juliet), display a type of chemistry that the cast and directors define as bone-chilling, electric and amazing.
The students assisting in the director positions, Kayla Rodriguez and Sergio Ramirez, are putting together this production as part of their senior project. Drama Club Director Corey Murphy says the two have done a lot to help with the casting and stage design decisions thus far.
The play will feature modern-day clothing and song choices, but still include the original language styles of the Shakespearean era.
This production of the famous Romeo and Juliet story will take to the SHS auditorium stage Thursday, Friday and Saturday, Jan. 24, 25 and 26. All shows are set to begin at 7 p.m. with a $6 admission fee for adults and $4 for students and senior citizens.