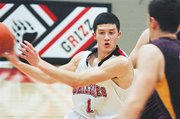 Down 16-6 just four minutes into the game last Friday, the Grizzly boys hoop team rallied for a 58-57 last second home win over Moses Lake.
Sunnyside pulled to within four after one quarter, 20-16, and was very much in the thick of things at the half, down 32-26.
Most of Moses Lake's first-half points were courtesy Denis Ulyanchuk, who had 14 points through the first 16 minutes of play.
The Grizzlies eventually found a handle on the Chiefs' big man, holding him to just five second-half points.
"We did a great job of wearing him down and making him earn every point and rebound after the first quarter," said Sunnyside Assistant Coach Ruben Fenrnandez. "We lost him in the first quarter and he was able to hurt us from the 3-line. At 6-4 he's a very well rounded ball player who plays hard all the time."
Ulyanchuk tallied 19 points and hauled down 16 rebounds for the game to help the Chiefs to a 38-22 advantage on the boards. He was 4-of-6 from three-point land for the contest.
While Sunnyside's defense clamped down, the Grizzly offense kept chipping away and after three quarters trailed only 41-37.
From that point on it was anyone's game and stayed tight the rest of the way. The score was tied 56-56 with 11 seconds to play when Moses Lake went to the free throw line and canned just one-of-two attempts after Fernandez called a timeout to freeze the Chiefs' shooter.
That left the door open for the Grizzlies, who got the ball to mid-court and called timeout with seven seconds to play, down 57-56.
That set the stage for last-second heroics as Trey Serl canned the game-winning bucket on a baseline jumper after teammate Eric Amaro set the play up by setting a screen.
"That was a big win for us," Fernandez said of knocking off the 4A Chiefs.
Serl tallied 16 points and three steals for Sunnyside, while Cody Fernandez led the Grizzlies in scoring with 17 points. Amaro added 9 points and six rebounds. Eduardo Salmeron led Sunnyside in the paint with seven rebounds to go with 8 points and three steals.
Sunnyside hit the road Saturday and fell 59-44 at Eastmont. The Grizzlies kept things close against the Wildcats except in the second quarter. The second stanza proved pivotal, as Eastmont rallied from a 12-11 first-quarter deficit to surge in front with a 20-8 run and lead 31-20 at the half.
"We had a four-minute spurt in the second quarter where we broke down offensively and defensively. Other than that, we played fairly even with them," said Fernandez. "In the fourth, we made a run and cut it down to nine, but that's as close as we would get."
He added, "We shot the ball fairly well, but we gave up more than several possessions due to a lack of focus."
Eastmont also benefitted from aggressive play on the boards to the tune of a 31-22 rebounding advantage over Sunnyside.
Serl sparked the Grizzlies with 11 points and two steals, while Cody Fernandez added 9 and Salmeron 6 points, respectively. Salmeron also climbed the ladder for a team-high six rebounds.
"We can't afford to give up any possessions against a good team like Eastmont," Fernandez said. "We need to do a better job of taking care of the basketball. We'll get another shot at them in February at home. We're looking forward to that one!"
Sunnyside (4-6, 6-9) hosts Davis this coming Friday.