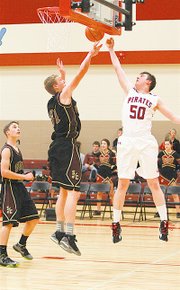 A 15-point loss at Lyle last Friday snapped the Bickleton High School boys basketball team's two game-winning streak in Greater Columbia 1B League play.
Saturday, hosting league leading Sunnyside Christian, the Pirates didn't have the ammunition to get their ship back on course, dropping a 61-35 decision to the high flying Knights.
The two weekend losses leave the Bickleton boys hoop squad with a 3-4 conference mark, although the Pirates are still over .500 on the season in total games played, at 9-8. Sunnyside Christian improved to 7-0 in 1B league play with Saturday's victory, 12-2 overall on the year.
In facing the battle-tested Knights, it quickly became clear Bickleton didn't have the firepower to stay with the league leaders. Offensively, the Pirates could only get 28 percent of their shots from the field to fall (13-for-47). Sunnyside Christian, on the other hand, made 54 percent of its field goal attempts (25-for-46), which included bombing in 7-of-15 from three-point territory.
"The biggest thing was the quality of shots we got was really good, we executed our offensive sets well," said Sunnyside Christian Coach Brian Bosma. "They tried to play a physical man (man-to-man defense) for most of the game and we ended up getting some good looks off that and driving to the rim."
Brant Bosma and Alex Brouwer ended up as Sunnyside Christian's top threats from long range, as together they made 4-of-7 three-point shots.
Brouwer, the Knights' point guard, finished with a game-high 20 points on 8-of-13 shooting from the field. That included making 2-of-4 from behind the three-point arc and 2-of-3 from the foul line. Bosma, in turning in a 17-point performance for the winners, was 7-for-9 from the floor, which included going 2-for-3 from long range.
The one other Knight who scored in double figures in the Bickleton gym was Brandon Broersma. The 6'7" post popped in 10 points on 4-of-10 field goal shooting. He contributed even more with his play in the paint, however, as he yanked a game-best 11 loose balls from the glass, which led Sunnyside Christian to a 32 to 27 rebounding advantage. Broersma, too, blocked three of Bickleton's shots.
Sunnyside Christian had been scheduled to play last Friday against Klickitat, but that league match-up got postponed because several of the Vandals came down sick earlier in the week.
In the losing cause against Sunnyside Christian on Saturday, freshman Nate Powers was the lone Pirate to post a double-digit scoring performance. He was 6-for-12 with his field goal attempts, finishing with 13 points. The 5'10" underclassman also led Bickleton on the boards with a team-high six rebounds.
The Roberts' brothers, Troy and Justin, combined for 11 points in the loss. Together they made 3-of-4 shots from treyland.
In Friday's 62-47 loss at Lyle, the older of the Roberts' brothers, Justin, poured in a team-high 13 points for the Pirates. The senior couldn't get much to drop from the field, but he did make all seven of his free throw attempts.
He also scraped nine rebounds off the boards, which combined with the game-high 14 rebounds claimed by teammate Taylor Brown led Bickleton to a 50 to 47 advantage in caroms gathered in. Brown, too, chipped in 9 points in the losing cause.
Also for Bickleton, the younger of the Roberts boys and Mitchell Powers each added 7-point efforts. Senior Peter Clinton also turned in an all-around steady performance for the Pirates - tallying 5 points, eight rebounds, four assists and five steals.
The Lyle Cougars, who went 22-for-63 from the field in besting Bickleton by 15 points, turned in a balanced performance. Sophomore Gabe Montoya emerged as the scoring leader for Lyle, however, tallying 14 points on 5-of-10 field goal shooting and making 5-of-10 from the charity stripe. Jacob Armour and Justin Mills added 9 and 7-point scoring efforts, respectively, for the winners.
Bickleton's boys are scheduled to host Yakama Tribal this coming Tuesday.
Sunnyside Christian will be at Burbank the same night. That game, which was originally scheduled for mid-December but cancelled due to inclement weather, will be a non-league affair.