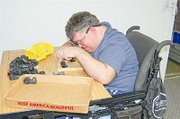 The Sunnyside EnTrust office recently moved to downtown Sunnyside from a larger facility on Barnard Boulevard, but is still committed to the goal of integrating people with challenges into the workforce, improving their lives.
Manager Albert Almanza said the building, the former office headquarters for the Sunnyside Port District, is perfect for the non-profit organization's current needs.
"We provide group supported employment, pre-vocational training and a transitional high school program," he said.
Providing services has been difficult in the current economy, Almanza said, and the organization has downsized its services recently, making the smaller space a perfect fit.
A group of people is hard at work in a large room, most of them assembling parts that will be used for music stands. The work is part of their training, but the participants also get paid for the effort.
The work can be innovative. A trainee with dexterity issues may be assigned to count parts. Others use molds to hold parts in place while they work.
EnTrust also offers a shredding service, and an employee spends time sorting through paper to remove staples and paper clips.
A classroom is set up as part of the high school program. Students from around the Yakima Valley come to get extra help and training.
In addition to classrooms and a working area, the new location has a small area set aside as a mini communication center for the deaf. A computer has been set up to allow people to use Skype to make video calls.
Almanza said the goal of EnTrust is to give people the skills they need to enter the workforce with confidence and to educate employers on the benefits of hiring people with disabilities.
"We also work with individuals on goals, helping them improve their lives," he said. "We work on skills they need to be part of society."
The latest effort of the group is to bring in a computer program called Posit Science. A trial run helped the participants with memory, attention and people skills they need. But the program and training needed to apply it are expensive enough that it is not yet in reach.
More information about EnTrust can be found online at http://entrustcs.org.