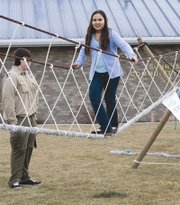 Lower Valley fathers may be wondering why 'Almighty Dad's Day' hasn't been advertised yet this year.
That's because Family Connections Yakima Valley, the organization that put the event on each year, has been dissolved.
Dad's day involved fathers and their children in activities that built their relationships and strengthened their trust in each other.
It went along with the mission of the local Family Connections organization, "strengthening families for kids' sake."
Rose Marie Wrung, the group's most recent director, said there just wasn't enough participation to keep the group going.
"Some people (leading the group) moved away and that kind of thing," she said.
So this past November, the group voted to dissolve.
Another event the public may miss seeing in the future includes the first responders' Valentine's Day dinner.
"That won't be happening this year, either," Wrung added.
Wrung said after the decision to do away with the group was made, the organization made arrangements to donate the funds it had to other local organizations.
Wrung, like many others, hopes someone will take the reins and opt to rebirth community events like dad's day and the first responders' dinner that were held in Sunnyside each year.