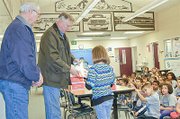 "Ooh, I want that one!" shouted an excited student in Mrs. Rivera's first grade class as she showed the class the books that the Sunnyside Kiwanis Club donated.
The service club bought more than 530 books through Scholastic to give out to every first grade student in the Sunnyside School District.
Last Friday members of the club visited all four of Sunnyside schools with first grade classes and presented boxes of books to each first grade teacher to hand out as they choose.
At Pioneer Elementary School the students gathered in the common area of their section of the school to hear the Kiwanis club members explain the donation. First the children were led in a chant by the principal. "The more I read, the more I learn!" they shouted.
Dale Miller, Kiwanis club president, and Jeff Matson, board member, talked about how Kiwanis helps people in the town and sponsors the annual Kids Day Parade in the summer. They invited all the students to participate in the next parade.
Then the boxes were handed out to teachers and the students returned to their classrooms. Mrs. Rivera's class was excited by the event but took their seats when their teacher told them the quietest students would get books first.
The boxes each contained a variety of books that students picked from. Some students rushed up when their name was called and picked promptly. Others took their time deciding.
The notion to give books to every first grader in the district was the brainchild of Jim Sleater, club secretary, and Matson.
The Sunnyside Kiwanis Club is celebrating its 65th year in service to the Sunnyside community this year. The club was chartered in July of 1948, sponsored by the Yakima club. Since that time they have given countless hours and funds back to the community.
One of the longest lasting projects has been the annual Kids Day Parade which has been going on more than 60 years. The parade is only for children and gives them a chance to dress up and parade down the street. The club normally has a drawing for free boys and girls bicycles and refreshments for the attendees.
The club meets each Wednesday at 6:45 a.m. at the Sunny Spot Restaurant on Yakima Valley Highway.