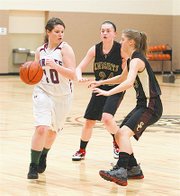 BICKLETON - The Lady Knights trampled the Lady Pirates by a score of 76-14 in a lopsided game this past Saturday night.
"Bickleton didn't put in their starters for the second half," noted Sunnyside Christian Coach Al Smeenk. "We still played hard all four quarters. We don't want to run the score up, but we play hard."
Leading the Lady Knights was Kara den Hoed with 19 points. Powerhouse Stormee Van Belle bucketed another 17 points and Katelyn Banks rounded out Sunnyside Christian's top scorers with another 16.
Also putting in strong performances for the Lady Knights were Annie Brouwer, who finished with 10 points, and Rita Dalrymple, who only bucketed eight points but pulled 11 rebounds off the glass.
The top scorer for the Lady Pirates was Jamie Venema with 6 points. Lindsay Brown contributed another 4 points while Sydnie O'Banion and Haley Goodnight rounded out the scoring for Bickleton with 2 points each.
"I was very proud of my younger group of girls this game," said Bickleton Coach Emily Barnhart. "They worked hard under the immense pressure they were given by Sunnyside Christian. It's difficult to come off of such a great win the night before and play a game like this! We all like to finish the week off with a win."
The Lady Pirates (3-4, 10-6) host Yakama Tribal tonight (Tuesday).
"I'm sure the girls will pull themselves back up and be ready for Tribal on Tuesday," said Barnhart. "Looking forward to that game!"
Sunnyside Christian's game against Klickitat last Friday was canceled due to illness in Klickitat and will be rescheduled. The Lady Knights will play at Burbank tonight (Tuesday).