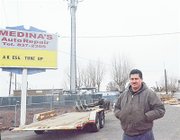 Esteban Medina, owner of Medina's Auto Repair in Sunnyside, has had more work than his small two-bay shop can handle.
Admitting that is a positive thing, he said he decided to do something about it and recently had the mobile home that was used as office space torn down to make room for three more bays.
The work is being completed by Steel Structures America of Yakima.
The new expansion to the shop, said Medina, is 30'x50' and will include new office space.
Medina said his business has been successful because of his belief in providing customers with quality service.
He has been the only mechanic and wants to hire as many as two more once the construction project is complete.
"There's been too many vehicles for me by myself...I needed more space," said Medina, who said he is investing between $45,000 and $50,000 in the expansion of his business so that he can better serve the community.
Medina's Auto Repair is still open for business while the construction is underway.
"I still use the two bays," he said, noting the three-bay expansion is due to be completed by the end of February.
Medina said the expansion is the result of a growing business.
"It's very good," he said.