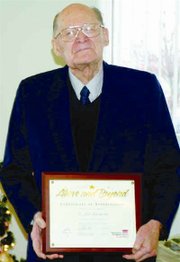 "He'll be missed, that's for sure," Jean Grubenhoff said of her father, Dr. Jack Hale.
Hale passed away this past Saturday after suffering a heart attack at the age of 90. He was known for his pioneering ways and his vast amount of knowledge.
Others use endearing terms like dad, grandpa, great-grandpa, husband and friend to describe the man widely known in the Lower Valley.
The longtime optometrist was a mover and a shaker in Sunnyside, having achieved many milestones while helping advance the world of optometry.
For more than 60 years Hale served as the optometrist to many Lower Yakima Valley residents.
"He was on the leading edge of contacts when they first came out," according to Sen. Jim Honeyford (R-Sunnyside).
The senator said he first met Hale in December of 1955. Hale was an active member of the Sunnyside Baptist Church, and Honeyford's father was the pastor of that church.
"I was in high school," Honeyford remembers.
He said it was Hale who convinced him to run for the Washington state legislature.
"On May 1, 1992 Jack called me...it was a Wednesday night...he told me he wanted me to join the legislature and I laughed at him," Honeyford said, stating he had just completed a term on the Sunnyside City Council and moved to a farm, thinking he was done with the harried life of politics.
Honeyford said Hale made a few phone calls after hearing Honeyford wasn't interested in running for the seat in Olympia. It was the next month when Honeyford acquiesced and ran for office, telling the voters he would serve two terms if they backed him.
"I have served since," Honeyford said, noting it was Hale's influence that has had him serving in Olympia for more than 20 years.
Honeyford said there were many facets to Hale, who was the seventh optometrist to serve the Yakima Valley. His grandfather, C.W. Young was the first.
Hale's aunt, Dr. Mae Booth-Jones, was instrumental in getting the first optometry laws passed in Minnesota in 1901 and in Washington state in 1908.
Hale was a philanthropist, as well, helping Ivan Torres, a young boy from Mabton, receive the gift of sight with the help of a colleague in Seattle.
Hale was also generous through the Sunnyside Lions Club.
Sunnyside resident Bill Flower described him as "...a Lion of a person," stating Hale has served the community via the Sunnyside Lions Club, the Sunnyside Republican Club, has held seats on the Yakima Board of Health, the Washington State Board of Health and as a member of the Sunnyside Chamber of Commerce.
Flower also remembers Hale's story of once presenting a dissertation in Great Britain to an optometry society there.
Hale was a member of the American Medical Writers Association and once told the Daily Sun News he remembered when contact lenses were square.
Hale was named man of the year in 1975 by the Washington Optometry Association and was passionate about his interests.
He was often a featured speaker at many service group meetings, sharing his knowledge of Washington's history with all who were interested.
"He was a Sons of the American Revolution member, too," said Honeyford, who noted Hale was a patriot, having served in WWII as an aircraft controller.
Honeyford said Hale will be missed by the community because he contributed to his church, the community, the state and the nation, as well as the world of optometry.
Hale's daughter, Cheryl Lindsley, is proud of her father's accomplishments. She is one of five siblings in the family.
Hale also had eight grandchildren and three great-grandchildren.
"My dad had a great work ethic," she said.
Lindsley said her father loved his work and helping others and that is why he was involved in community organizations.
"He was very knowledgeable about the history of Sunnyside and had many stories about its founding fathers," said Lindsley.
She said she remembers walking to school with her father when she was a child. It was during those walks that he would share his knowledge of the city's historic structures and their owners.
"We knew every WWI veteran's story on that path," said Lindsley.
Her father also shared with her and her siblings a love for music and musicals. Lindsley said he would sing the songs from those musicals for months after viewing an on-stage production.
That, she said, gave her family an unusual knowledge of "some very strange war songs," which they know by heart.
"My dad believed in Sunnyside and always spoke of the city with pride...I am so thankful that he chose Sunnyside to raise us and gave us a wonderful childhood," said Lindsley.
Grubenhoff agreed, noting her father was a dedicated man. His face would light up for his family, loved family birthday parties and holiday gatherings.
He never missed a day of church or a Republican Club meeting, she said.
Grubenhoff said that dedication extended to Hale's patients. He was in his office nearly every day until his heart attack.
She said Hale had some health issues this past year, and he was in and out of the hospital.
While in the hospital, Grubenhoff said, Hale would tell the doctors and nurses he needed to return to work.
"He'd say, 'I've got to get out of here and get back to work'," she said.
Patients, friends and family alike will find commonality in missing such a well-respected man of Sunnyside.
Those wishing to honor Hale can attend a memorial service, which will be held at 10 a.m. this coming Saturday at Sunnyside's First Baptist Church.