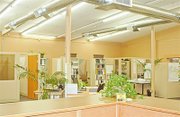 A project six months in the making came to an end recently when the Sunnyside Valley Irrigation District completed the first phase of improvements to its field office at 1105 Yakima Valley Highway in Sunnyside.
The site, formerly Bieber Brothers Fashion Floors, was purchased in 2009 for $550,000 with a focus on meeting SVID's expansion needs.
Ron Cowin, the SVID assistant manager responsible for engineering, said work space was tight when all office staff were at the SVID's main office on 11th Street.
Work to transform the former Bieber Brothers store into a field office began last June and the result has been not only new paint and flooring for office spaces, but new walls erected to house future upgrades.
SVID plans to eventually build a training room/board room at the field office, as well as a lab.
Cowin said the first phase of work included framing for those eventual improvements, as well as bringing the building up to fire code.
Other upgrades made at the 13,400 square-foot field office building over the past year have included roof repairs and installing a new HVAC system.
SVID's recently completed and future improvements at the field office have a value of about $220,000, according to a building permit the city issued last year.