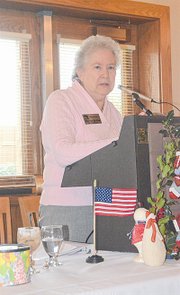 It's been 10 years since Sister Mary Rita Rohde and the staff at Sunnyside's Nuestra Casa first began opening doors for those in need.
Rohde, last Thursday's Nouvella Club guest speaker, started the organization from the ground up, with the help of her faith community.
She had a history of providing educational opportunities for Lower Yakima Valley residents, having been one of the founders of Heritage University.
Rohde left the college in 1986 to help her fellow sisters in Canada and in 2002 returned to the valley.
She returned with a desire to help Lower Valley residents and finding there were fewer services available the further one got from Yakima, conducted a feasibility study. She learned many believed services for immigrant women in the community were sorely needed.
Rohde conferred with her fellow sisters, who believed she could use her skills as an educator to assist the immigrant women's population.
"So, we started Nuestra Casa," she recalled for the Nouvella Club members.
The non-profit organization, said Rohde, depends on private donations and the support of the faith community. She said government funding and grants are not part of its operational budget because of the limits placed upon recipients of such funds.
The first class offered by Nuestra Casa was driver's education.
"There were 45 people in that class," Rohde remembers, stating she found irony in the fact that those students drove to class without a license.
She told those attending the Nouvella Club meeting her eyes were opened to the fact that many drivers didn't have operator's licenses.
Rohde, wanting to meet other needs in the community, conferred with the president of Yakima Valley Community College about the fact that English as a Second Language classes were not being offered by the college.
It was decided that Nuestra Casa could provide those classes and so started one of the organization's longest lasting programs.
Nuestra Casa teaches four levels of English classes, which are primarily attended by women. Some men take advantage of the opportunity, too.
Rohde said the classes are taught in the mornings, meeting the scheduling needs of the students.
GED classes are offered, as well.
"We found the average grade level completed by these women is third grade," said Rohde, stating the lack of education had many women at a disadvantage.
The women whose children were in fourth grade grew dependent upon their children for translation and other skills.
That dependence sometimes leads to a child being in control of the parent, instead of the other way around. Rohde said she tries to educate parents, teaching them that they make the decisions for the children.
"I tell them, 'You are the parent'," she said, noting gentle coaching is important for helping these parents to understand their role as decision makers.
"We found some women and some men didn't even know how to write their name," Rohde said, stating there are plans to begin reading and writing classes to help individuals obtain what some would consider basic skills.
In addition to providing educational opportunities that teach the three R's, Nuestra Casa has cooking classes to educate individuals on proper nutrition.
Rohde said it was learned some do not understand the importance of eating fruit and vegetables, so meals that include fruits and vegetables are planned.
Teaching proper nutrition is especially important because so many Hispanics suffer from diabetes, said Rohde.
"We also have a nurse on staff who works with those who have diabetes," she told the Nouvella Club attendees.
Rohde said the organization appreciates those who choose to volunteer. She said volunteers do not need to know Spanish when helping with English classes.
In addition to the many classes taught at Nuestra Casa, Rohde said the organization operates as a referral service, helping individuals learn of other services available to them.
"We do a lot of collaborating," said Rohde, adding the organization is always adjusting the services it provides to best meet the needs of the community.
Nuestra Casa opened its doors in January 2002 and will be hosting a 10-year anniversary celebration event this coming March 9 at the Sunnyside Presbyterian Church.
Rohde told those at the Nouvella Club meeting the cost to attend the event is $25.
More like this story