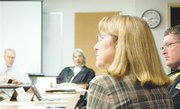 YAKIMA - The Yakima County Gang Commission met yesterday afternoon for its first meeting of the year and heard updates from Toppenish, Sunnyside and Yakima officials regarding grant money the cities have received to form plans to combat gangs.
Representing Sunnyside was Community Coordinator Cathy Kelley, who was hired to serve as a link between the city's core conveners.
With help from Dr. Rick Cole, superintendent of the Sunnyside School District, Kelley told the commission that the city of Sunnyside, the Sunnyside School District, Sunnyside Community Hospital and the Port of Sunnyside have all signed letters of understanding and, as the city's core conveners, are working together on several initiatives within the city.
Kelley coordinates the activities of the core conveners, and told the group that she has work groups that are already meeting regularly, including the work group tasked to fight the gang problem.
Kelley said the gang-free initiative work group has met three times and is considering purchasing the curriculum that Toppenish has already purchased and is integrating into its schools. The Phoenix Curriculum is an anti-gang resource that Sunnyside is considering integrating into sixth grade courses.
Kelley said because the district is starting so late in the school year, the vendor of the curriculum is willing to design fewer lessons for the district for this school year, and the district would purchase the full curriculum for next year.
In addition, Kelley said Sunnyside is working with a Tri-Cities group, El Firme, to reach the parents of targeted children. One aspect of that, according to Sunnyside Deputy Police Chief Phil Schenck, would be the city's block watch program.
Sunnyside City Councilman Jim Restucci also praised the suppression efforts of the Sunnyside police, giving the commission members some statistics about how crime has gone down in the city.
Schenck told the group that the city's crime-free rental program is a "gem" in the fight against gangs. Although the program is mandatory in Sunnyside, he said he thought he could design a voluntary program that most landlords would join willingly.
Cole also told the group that school statistics back up the success of the efforts in the city. The improved graduation rate and the push by students to help their classmates succeed has resulted in less gang activity in school.
"The energy going into being successful has focused students," he said. "They have no time during school to get into trouble."
The gang commission also took a call from Rep. Charles Ross of the 14th District during the meeting, who told them he was trying to get an increase and continuation of the money the cities are using in the fight against gangs. Ross told the commission that he did not think there would be a reduction of funds this year.