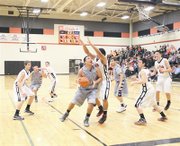 ZILLAH - The Zillah boys basketball team - undefeated in league play and ranked second in the state among 1A squads - was every bit as good as advertised last night in a 77-50 win over visiting Mabton.
"We struggled defensively to contain Zillah," Coach Brock Ledgerwood said of the SCAC West contest. "They were very physical on offense, pushed their way to the basket and to open looks in the post."
Besides that push in the post, Zillah also knocked down several 3-pointers to make things tougher for Mabton Tuesday night.
The Leopards broke out to a 21-8 first quarter lead and notched a 40-20 advantage at the half.
The Vikes found more offense in the second half - including 19 points in the third quarter - but it was too little, too late against the Leopards.
"Offensively we were much more patient and team-oriented than the last few games, but we were unable to keep up," Ledgerwood said. "We attacked their press well, but could not capitalize and get easy looks. Nine of our 10 guys scored on the night, which is a credit to our team effort to play together offensively."
Lorenzo Sanchez sparked Mabton with 16 points and seven rebounds.
"Lorenzo had a solid game in the post. We were able to get him the ball in the second half and he worked hard to get his own shots on the boards," Ledgerwood said.
Alex Reyna and Roy Zavala tallied 9 and 6 points for Mabton, respectively. Mabton got a boost inside from Luis Ruiz with 5 points and six rebounds. Jose Lopez helped the Vikes' defensive effort with three steals.
Zillah boasted three scorers in double figures; Brady Widner (19), Justin Dunsmore (16) and Jace McKay (15).
Mabton (1-9, 3-13) returns home this coming Friday and Saturday to host Naches and Highland.