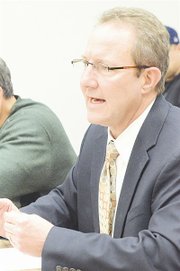 GRANDVIEW - When upgrading any older building or facility, there are often a few unknowns.
Such is the case with Grandview's Euclid Lift Station, which is currently the subject of a wastewater treatment system improvement project.
Engineer Ted Pooler of Huibregtse, Louman Associates this past Tuesday evening told the Grandview City Council that electrical problems have been found at the station.
He said the improvement project was underway and it was decided a support system for a hoist was needed. That hoist would be used to move the pumps at the lift station.
However, to install the hoist, the building structure itself needed to be rebuilt. In the process of disassembling the center of the building, said Pooler, electrical systems were revealed and found to have corrosion.
The city, to fund the project, secured a USDA loan for just under $2 million.
City Administrator Cus Arteaga said this is potentially the last time the city of Grandview will qualify for funding from the USDA because the population has grown to more than 10,000.
However, additional funding from the agency is available via an additional application process that is allowed to accompany the original loan.
Pooler told the council it should apply for $545,500 in additional funding to complete the necessary improvements to the Euclid Lift Station.
He suggested it as a beneficial remedy because interest rates on the loan will also drop by 1 percent.
The bad news, said Pooler, is that the city will be paying approximately $115,000 annually instead of the original $92,000.
"I propose you take full advantage of the USDA funding," he said.
Wastewater Treatment Manager Dave Lorenz spoke briefly to the council members, stating the pumps at the lift station were installed in 1988 and have outlived their life expectancy.
The primary clarifier, too, has outlived its life expectancy. It was installed in 1977.
Lorenz believes the upgrades to the city's wastewater treatment system will benefit the growing population and will save the city additional maintenance costs.
The Grandview City Council authorized Arteaga to pursue the additional funding for the unexpected improvements by a 6-0 vote.