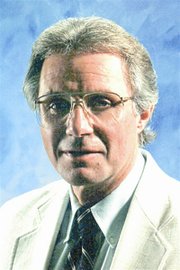 A power run game worked wonders for Del Talley's teams over a 19-year high school football coaching career - three of them at Sunnyside High School. His teams won more than 60 percent of their games and piled up more than 100 wins over that time. Now, the 75-year-old is enjoying the top prize of all - selection in the Washington State Football Coaches Association Hall of Fame. He enters the hall with a lifetime mark of 113 wins, 68 losses and four ties - a winning percentage of .624. "They called me just before Christmas and it completely caught me off guard!" he said of the honor. He and other newly inducted members of the hall of fame will be honored this coming Saturday in Everett. Talley, who is retired and lives in Winlock, coached the Grizzly varsity football team from 1983-85 and served as Sunnyside High School's athletic director until 1988. Talley's head coaching career started in Okanogan in the late 1960s. He helped that school snap a 28-game losing streak, then guided it to a 19-game winning streak and three straight Caribou League titles. Single wing success It was at Okanogan that Talley implemented the power running game that would be a hallmark of his offense throughout a nearly 20-year coaching career. "We didn't have a quarterback at Okanogan so we ran the single wing with the quarterback becoming a blocking back," Talley said. "It was a direct snap to the tailback or fullback and I was the only coach running it at that time." It was so successful that one Caribou League coach tried to outlaw the single wing. "The coaches in that league hated the single wing," Talley laughed.
On to Sunnyside
Talley left Okanogan for his native Longview, where he was at the helm of the Mark Morris High School football program for nine years. Talley actually was con-sidered for the coaching post here in the mid-1970s after George Potter stepped down as Grizzly football coach. "I interviewed for the job, but I decided to stay in Longview," he said. The second time proved a charm in 1983 when Talley became a Grizzly, recording two winning seasons for Sunnyside and coming with-in one game of a State tourney berth. "The enticing part of it was they offered the athletic director/assistant principal position along with the football and I was ready to move into the administrative end of things," he said. Bill Gant was SHS principal during Talley's time in Sunnyside, and he said the district made a good decision in bringing the coach on board. "He was just a great guy, the kids loved him," said Gant, whose son Casey played under Talley. "He was very well liked in the community, a really good football coach and extremely organized as athletic director." Gant also appreciated Talley's connection with football parents. "He instituted a program, a parent meeting every Monday night to go through game film and explain the logic of what they did in the game." Not surprisingly, that logic or strategy in Sunnyside included a smash-mouth run game. "Opposing coaches when they had to get ready to play Sunnyside knew Del Talley, number one, was going to run the football and secondly he was going to run the power sweep," Talley laughed. "They had to take care of the corners because they knew I was going to come to the corners with the power sweep." Eroll Miles coached in the Grizzly football program for 30 years and was defensive coordinator under Talley. Miles said the run game was impressive because even though teams schemed to stop it the Grizzlies were still able to make positive gains on the ground. Miles said Talley had a firm, unwavering view for his football programs, yet let his assistants have authority in their fields of expertise. "He let the assistant coaches coach. He was a good listener and always gave you the time to say what you wanted to say, even if you didn't always agree," Miles says. "We had some good coaches on both sides of the ball."
A coaching tree grows in Sunnyside
There were indeed good coaches for the Grizzlies under Talley and several of them became head coaches. The coaching tree includes Mark Lyons, who succeeded Talley at SHS, as well as Rick Linehan and Talley's son, Darren. That influence continues as one of the current Sunny-side football coaches, Darren Mezger, was actually named for Talley's son. The tree's roots go deeper, still, as some of Talley's Sunnyside players have gone on to coaching careers. They include Casey Gant, a quarterback for Talley, who was head coach at Mabton for nine years and is now athletic director at Prosser High School. "He had a great vision for his program and he always gave you a fair shot," Gant says of playing for Talley. "He taught me a ton about the sport of football," Gant added. "More than anything I learned from him discipline…discipline in your own mind and having a firm philosophy and belief in yourself and what your pro-gram stands for." That direct-but-fair approach was echoed by Tyler Miller, a lineman at SHS for Talley. "You always knew where you stood with him," says Miller, an assistant Grizzly football coach for the past 16 years. Miller, a teacher at Harrison Middle School, says up front communication in a positive tone is a trait he aims to emulate with a new generation of Sunnyside football players. Referring to Talley as a "mentor" in the game of football, Miller also praised his old coach for encouraging him to play college football at Eastern Oregon University.
A call from WSU
Talley never coached football at the university level, though it was a brief stint as an assistant community college football coach that got him started. Still a few credits short of completing community college, Talley went back for a third year at Lower Columbia Community College in Longview. "The coach there needed an assistant and asked if I would be interested," Talley said. "So here I am, a 20-year-old coaching running backs and defense." Talley was hooked. "From then on that was the direction I tried to go," he said. His only flirtation with coaching at the major college level was when WSU football coach Jim Walden asked Talley to consider a running backs coaching post with the Cougars. Talley's son Darren was playing for WSU at the time and the offer was tempting. "I had two conversations with Jim about it, but he said I was probably making more money than what he could offer," Talley recalled. "He said I could have a car and that I would have to come in for $18,000 a year." Talley laughs now, noting at the time he was making $32,000 as a teacher/coach at Mark Morris. "I had four sons, I couldn't take a cut like that," he says.
Sunnyside up
Talley has no regrets about turning down the Cougs, and still has a great fondness for Sunnyside. "I wouldn't have left Sunnyside if not for the opportunity to be a principal," he says of leaving here for Ocean Shores. "Of all the stops I made as a head coach, I'm going to tell you the best coaching staff I had was in Sunnyside." That praise includes work-ing under principal Bill Gant. "I fully enjoyed working for Bill," Talley says. "He's just the kind of guy that every young coach and assistant principal would love to work for, and I was no exception." Now 30 years later he can still reel off the names of his players, too, "kids" like Miller, Gant and fullback Curtis Graff. "They were good, tough kids, fun to coach," Talley says. "They played awfully well."
Still a coach at heart
This Saturday Talley takes his place among the coaching greats in Washington state. He'll do so with his greatest help alongside - wife Marilyn. "She's well travelled," he laughs, noting a career that took him to all corners of the state. "She was a trooper the whole way." He and Marilyn may no longer trek around the state to coach football, but Talley still tracks the game. He enjoys the surge of strong-armed and fast-on-their-feet zone read quarter-backs like Seahawk Russell Wilson. "I often think about what it would be like coaching it, watching all that stuff," he says of the zone read. But then, in that moment, he shifts from football fan to disciplined coach - the fire is still there. "You have to remember the offensive make-up really is dictated by personnel," he says, almost as if he's ready to pick up a whistle and re-turn to the sideline. "Instead of trying to make kids adapt to the offense you want to run, it's a much better phi-losophy to adapt to the personnel you have." Adapt to what or who you have. For Talley it's not just a winning formula 113 times over 19 years…as of Saturday it's a hall-of-fame one, too.