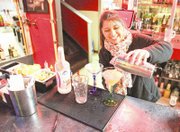 Though her job as a bartender sometimes has her wearing many hats, Laura Araujo's love of people from all walks of life is what gets her through.
"Listening is just part of the job as a bartender," she said.
Sometimes as a server at a bar, this 23-year-old gets to become a listening ear.
"I love getting to know the customers," she said of her favorite part of being a bartender in Sunnyside.
Araujo has been at Fuego Lounge in Sunnyside for nearly a year and says it's the perfect job to pair with a fulltime school schedule.
On any given day at the lounge the Grandview native may serve up a drink, help a customer or work to keep the place in a tidy condition.
While she works her way to becoming a dental assistant, and eventually a dental hygienist, Arajuo says her job as a bartender has its perks.
"My favorite drink to make is a flaming Dr. Pepper," she added. "...because I get to light it on fire!"
Her least favorite part of the job, however, is cleaning the bathrooms after a busy evening.
But all in all Araujo says the positives far outweigh the negatives at her job, and she's not going anywhere, anytime soon.