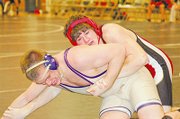 It was supposed to be a battle for the CBBN title but instead it became a rout as the Grizzly wrestling team administered a 53-12 thrashing of visiting Wenatchee last night.
"I anticipated a closer match than that, I thought it would be tighter," said Coach George Paulus.
He says the key to his team's convincing win Thursday night was depth. "We have a quality guy at every weight class," Paulus said. "We've got too many good guys in every weight class, it's hard for teams to match that."
He noted another key to the big win was the ability by so many Grizzly wrestlers to score points in the final seconds of a round or match.
"That's like a home run...being able to score points at the end and they can't score back," Paulus said. "Those are gravy points and that's a good thing for this time of year because it puts you ahead and discourages the other guy."
Last night's victory completes a 5-0 run for the Grizzlies thorugh the CBBN ranks, and gives Sunnyside its third consecutive league championship.
Sunnyside quickly built a 20-0 lead through the first four matches Thursday night. It all started with Grizzly Sam Romero (152 lbs.) claiming a 14-3 major decision over Logan Tidd, followed by Ramon Hernandez (160 lbs.) earning a pin in 56 seconds over the Panthers' Wyatt Long.
Rounding out the quick start were Max Ramos (170 lbs.) and Daniel Avalos (182 lbs.), recording a 15-6 decision and pin in 2:33, respectively.
Wenatchee finally punched the scoreboard in the 195-lb. weight class when Isaiah Van Weerdhuizen outpointed Sunnyside's Isaac Palomino 10-6.
Austin Carman (220 lbs.) responded for the Grizzlies with a pin in 1:32 over Wenatchee's Kyle Lesmeister, who was fourth in the State 4A meet last season.
"I figured Austin would win, but I wasn't anticipating a pin," Paulus said of Carman's strong showing.
Wenatchee looked for a moment like it might get back in the match after that, recording a pin at 285 lbs. and then a 6-3 decision at 106 lbs.
That made the score 26-12, but the Panthers' hopes quickly vanished as Sunnyside claimed the final six matches by a combined score of 27-0.
The decisive run started with a forfeit to the Grizzlies at 113 lbs., followed by Jesse Barajas (120 lbs.) nailing a pin in the final seconds of his match over Eric Briley.
Santos Guerrero (126 lbs.) oupointed Wenatchee's Alberto Montes DeOca 11-6 to sustain the momentum, and Sunnyside's Daniel Guillen (132 lbs.) followed with a tight 4-3 win over Andrew Lape.
Christian Ruiz earned a 6-0 decision for the Grizzlies at 138 lbs. over Kris Garrett, and Noe Palomino (145 lbs.) closed out the match with a pin in 1:01 over Wenatchee's Noel Sanchez Moreno.
Sunnyside pulled off the romp despite having one wrestler injured and another one not making weight.
"We can shuffle the deck, which is good," says Paulus.
That shuffling included inserting reserve Javier Tapia in the 106-lb. weight class. Despite a 6-3 loss, Paulus appreciated the way the sophomore battled.
"Javier held his own," the coach said. "He only weighs 97 lbs. but he's pretty scrappy and holds on."
Sunnyside now turns its attention to the postseason, which starts this weekend with a JV qualifier tourney in Kennewick. The top three JV wrestlers in each weight class will advance to the District tourney next week in Spokane.