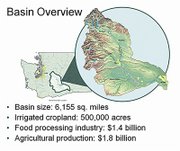 OLYMPIA - The past 40 years have seen one plan after another try to address the Yakima Valley's water supply needs and environmental concerns.
Finally, there seems to be one that's a fit for both concerns as this week Rep. Bruce Chandler's bill (HB 1196) on behalf of an integrated water supply/fish habitat plan for the basin had its first hearing.
"The goal is to start creating a more reliable water supply and more volume of water for the Yakima basin," says Chandler (R-Granger). "The hearing was good, there was a lot of testimony from a lot of people. There's definitely a high level of interest."
High level, indeed, as this week Gov. Jay Inslee's first executive request for legislation was Chandler's bill on behalf of the Yakima Valley. That includes support for $23.6 million in state capital funds to get the project started.
"This investment will help restore fisheries and meet agriculture, municipal and domestic needs in the basin," says Inslee, who once served as a Congressman from the Yakima Valley.
A 'first important step'
That's welcome news to Yakima County Commissioner Mike Leita, who has been involved with the development of the integrated plan over the past three years.
The plan has met with approval from federal, state, county and local governments and agencies, as well as the Yakama Nation.
"This is an important step, transitioning from years of planning to implementation," says Leita, who attended this week's hearing in Olympia.
Leita says the plan is making progress in Olympia because it is a "holistic" approach to the basin's needs. He said previous efforts seemed to target either water needs or fish habitat, not both as the current integrated plan does.
"We're at the point of saying that we do need additional water storage, but we believe there are some other components that need to be addressed to make the whole system truly integrated and functioning well together," Leita said.
He says Chandler's legislation is a "first important step," but that the project is a long-term effort that will likely take 30 years and carry an overall price tag of $3.5 billion.
Elements of the integrated plan include a pipeline from the Keechelus to Kachess reservoir - which Chandler says will likely be one of the first steps completed if the plan is approved - to improving fish passage in the upper tributaries of the Yakima River.
The proposal also includes, for example, enlarging Bumping Lake Reservoir and enhancing fish habitat.
Leita says obtaining state funding will help in garnering federal support for the Yakima basin plan.
"It would make our challenge to seek federal funding exponentially more difficult if we didn't have state funding and support," he said.
Cities, farmers
have much at stake
Progress this week with Chandler's legislation is a hopeful sign for Lower Valley communities like Grandview that rely on municipal wells for drinking water.
"The water storage issue is very important in Grandview," says City Administrator Cus Arteaga. "We're so dependent on industrial folks and when we have a drought year it impacts us pretty seriously."
Grandview has 10 municipal wells for its water supply and has approval for two more wells if needed.
"We're going to keep an eye on it," Arteaga said of monitoring progress on Chandler's bill in Olympia.
Local irrigators will also be watching the bill's progress.
"It's really encouraging, the progress we're making in moving ahead with a wide variety of stakeholders supporting the plan," says Jim Trull of SVID. "We've never had a plan this comprehensive before."
While SVID is a senior water right holder and unaffected during drought years, Trull says other districts and the farmers they serve can face dire straits.
The Roza Irrigation District, he noted, has received less than 40 percent of its water allotment during drought years like 2001 and 2005.
"Those districts really need additional water supplies," Trull said. "This is a big deal for the landowners they serve. Without water we don't have the ag economy that supports our communities."
Next steps
Chandler says the next steps for his legislation include processing public comment, such as questions about public access to lands in the Teanaway that would have to be purchased to implement the basin water plan.
"There are some very reasonable questions that people have," Chandler says. "The important thing is we have to build credibility in the way we handle the public's money," he adds. "There's a lot of pressure on all of us to make sure it gets done right."
After addressing public comments, Chandler says within the next two to three weeks his bill will likely be forwarded on for approval by the legislature's Agricultural and Natural Resources Committee.
"My priorities are that everyone understands what we're doing in the basin plan and that the (fish habitat and water storage) components move forward concurrently," Chandler says.