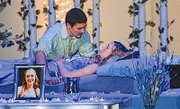 "For never was a story of more woe than this of Juliet and her Romeo," go the final lines of Shakespeare's Romeo and Juliet.
As performed by Sunnyside High School Theatre students, this tale of woe will instead woo and wow you.
Using Shakespeare's language in a contemporary setting, the timeless tale debuted at SHS last night, Thursday, and continues through tomorrow night (Saturday).
During an abbreviated matinee Thursday afternoon for high school students at SHS, Mardy Lopez and Jessie Winchel carried off the roles of Romeo and Juliet with sincere energy and commitment to making their characters believable.
The play is directed by SHS students Kayla Rodriguez and Sergio Ramirez for their senior projects, and features a nice supporting cast, particularly Gavin O'Leary as the mercurial Mercutio.
Like any good story, the star-crossed romance of Romeo and Juliet is full of conflict - armed conflict at times - between the Montague and Capulet families.
The SHS production does a nice job of staging the sword-fighting scenes that play out between the two rival clans, as well as the fateful couple's bittersweet ending.
Speaking of the ending, the final scene is one of many examples of how the production makes good use of upgrades in the Sunnyside High School auditorium.
Whether it's bathing the final farewell scene in rich blue lighting, or playing tone-setting music through the new sound system, drama teacher Corey Murphy's cast and crew do well with the new technology.
In closing, be prepared for a surprising modern twist during one scene that is alone worth the price of admission.
So go, and let this tale of woe woo you.