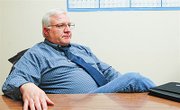 Sunnyside's subcommittee on finance and administrative services met for the first time in 2013 yesterday evening to elect a chair and get a status update from city staff.
Councilman Jason Raines was elected as chair of the subcommittee with Councilman Nick Paulakis serving as vice chair. Mayor Mike Farmer rounds out the committee members.
Anna Bullock, human resources director, and Theresa Hanford, finances director, answered questions about new sales tax software, monthly financial reports to council and the efforts city staff is making to save money this year.
Bullock told the committee the new sales tax analysis software has been giving the city a good return on investment, allowing Interim City Manager Frank Sweet to see sales tax revenues on a monthly basis and keep track of trends.
Hanford was asked to produce monthly financial reports both for the council and to post on the city website for citizens to view. She asked what type of information the reports should contain and in how much detail.
Paulakis expressed concern that generating the reports will be a burden on the financial department. Hanford said that it is a priority for city staff to provide the information to the city.
Bullock also noted that with new financial software being phased in, the reports will soon be simple to generate. The new software should be completely in place by April.
Farmer noted that the city council has had issues in the past with financial information not being up-to-date.
"We cannot make any budgeting decision without correct numbers," he said.
The committee also discussed possibly holding a budget retreat instead of a series of workshops in preparing next year's budget. The decision was made to pitch the idea to the council.
Raines also asked staff about a proposal to merge Sunnyside police dispatch with Yakima County services. Bullock said information and numbers were still being gathered and the proposal would be reported to council if it would result in savings for the city.
Paulakis expressed concern that a merger with Yakima County might lower the service quality, citing how citizens can currently make a direct call to dispatch and get better service than calling 9-1-1. Bullock said that was also being taken into consideration.
Answering another question, Bullock talked about efforts the city is making to save money, including conducting audits of phone and power services and finding ways to save on office supplies.
"We're doing real well," she told the committee. "Moving along."