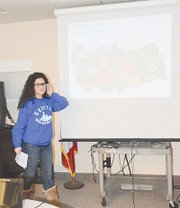 Egemen Aydinay is a Rotary exchange student currently being hosted by the Prosser Rotary Club.
Wednesday morning she shared a little about her homeland, Turkey, with Sunnyside's Daybreak Rotarians.
The Republic of Turkey is located in Southeast Europe between the Mediterranean and Black seas. It borders Bulgaria to the northwest, Syria, Iraq, Iran, Armenia and Georgia.
The population, said Aydinay, is nearly 80 million people.
She said the primary religion in the Republic of Turkey is Muslim, but Christianity and other faiths are also freely practiced in her country.
The Republic of Turkey came about in 1923. Its first president was Mustafa Kemal Ataturk, who is highly revered as a national hero.
Aydinay said under the new laws established at the time of Ataturk's presidency men and women were made equal.
Equal protection was also extended to those who were not Muslim.
Aydinay said Ataturk transformed the Republic of Turkey, and President John F. Kennedy said, "The name of Ataturk reminds people of the historical successes of one of the great individuals of this century, the leadership that gave inspiration to the Turkish nation, farsightedness in the understanding of the modern world and courage and power as a military leader. It is without a doubt that another example can't be shown indicating greater successes than the birth of the Turkish Republic, and ever since then Ataturk's and Turkey's broad and deep reforms undertaken as well as the confidence of a nation in itself."
Aydinay shared a little about some of the cities in the Republic of Turkey, too.
She said Istanbul is the country's largest city. "It is the cultural center and it is the historical center of our country."
More than 13 million people live in Istanbul.
The country's capital, Ankara, is the second largest city and it is the center of Turkey's government, Aydinay told the Rotarians.
Izmir is Aydinay's hometown. It is the third most populated city in the country and boasts many activities the young Rotary exchange student enjoys.
Because the city is situated on the Gulf of Izmir, Aydinay enjoys windsurfing and time on the sandy shores with her friends.
She said she attends a private school, her father is an electrical engineer and her mother stays at home. She also has a younger brother.
Aydinay said a Turkish pastry, known as Boyoz, is associated with Izmir.
"Our breakfast is not like an American breakfast...we do not eat cereal," said Aydinay.
She said a traditional Turkish breakfast includes bread, cheese, olives, honey and vegetables accompanied by Turkish coffee. The beverage, she said, is much thicker and stronger than American coffee.
Aydinay said her family's favorite sport is soccer. "We do not have American football," she noted.
When asked how large her school is, she told those at Wednesday's Rotary meeting there are five grade levels at her school. Her class was made up of 156 students.
"We are different than other Muslim countries," Aydinay added, noting many have asked her about women's rights in her country.
She said women do not have to wear coverings and are given equal rights under the law.