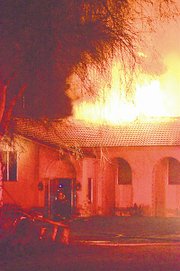 GRANDVIEW - Having just gone to the hospital to visit a family member clinging to life, the Sanchez family had no idea their lives would be turned upside down in the span of about 20 minutes time last night.
Brenda Sanchez said the family, who lived at 1420 North Forsell Road near Grandview, was at her father-in-law's bedside when she began receiving messages from her alarm company just prior to 5:30 p.m., alerting her that something was wrong at home.
She told her husband, Raul, and three children, Lorenzo, Miranda and Adriana, she was going to run home to find out what was going on.
Mrs. Sanchez's son decided to join her and when the duo arrived Mrs. Sanchez rushed to the front door after seeing smoke creeping out from under the rooftop.
She said she quickly opened the door and smoke came billowing out.
Sanchez called 9-1-1, alerting fire personnel to the blaze.
She and her son thought about the family's two dogs, which were locked inside a room. The pair jumped into action and broke out a window to the room, calling to the animals in a desperate attempt to save the lives of their precious companions.
Sadly, the dogs did not respond and firefighters believe the animals were overcome by smoke while they slept.
Firefighters and Mr. Sanchez arrived soon afterward.
The three family members huddled close to one another at the back of the home, surrounded by friends, as they helplessly watched firefighters contain the blaze that was destroying their home and all the memories contained within.
"Pictures of Raul's mother were inside," said a teary-eyed Mrs. Sanchez.
"She's going to be devastated about her dog," she said, speaking of her youngest daughter. "She got the dog for her birthday after saving her own money to help buy it."
Mrs. Sanchez was, however, grateful her daughters remained at the hospital with family members and were not witness to all that was lost.
Mr. Sanchez said he, too, was understandably upset. "But, we are all safe," he noted.
Firefighters from three stations of Yakima County Fire District #5 and the Grandview Fire Department battled the blaze, which Mrs. Sanchez said appeared to have started in the kitchen.
Yakima County Fire District #5 Battalion Chief Ken Shipman said the burn patterns inside the home lead him to believe the fire did indeed begin in the kitchen area.
He said the damage is estimated at approximately $150,000. About 75 percent of the home was lost to the conflagration.
Shipman said Grandview's ladder truck was used because the tile roof can cause some difficulties for firefighters due to the weight on the structure.
He said one firefighter sustained a minor injury when he twisted an ankle. Otherwise, no other injuries were sustained.