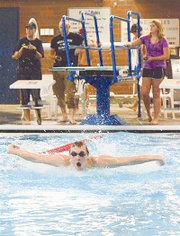 YAKIMA - Grandview swimmers earned five personal bests and a team best as they competed at the Yakima Valley Championships this past Saturday at Lions Pool in Yakima.
Greyhound Mitchel Wagner put up impressive numbers in the 500-yard freestyle, clocking 5:55.67 to earn second-place honors. The time cut nearly 20 seconds off his previous best. Winning the race was Andrew Brewington of Naches with a time of 5:42.17.
Wagner also took third-place honors in the 200-yard freestyle with a time of 2:10.26, which cut five seconds off his previous best this season. Brewington again topped the field in the event with a clocking of 2:04.87, and Zachary Zoutek of Davis also touched the wall before Wagner, clocking 2:06.88.
Wagner wasn't the only Greyhound speeding through the water. David Wacenske sliced almost a second off his best time in the 50-yard freestyle, touching the wall in 27.66 seconds.
Greyhound Brendon Lynch also had a personal best in the 100-yard backstroke with a clocking of 1:19.65.
Grandview's Micah Binfet also topped his own best time in the 100-yard breaststroke by clocking 1:13.37. He earned fourth-place honors in the race behind Will Burgett of Prosser (1:01.96), who led the field.
Jared Churchill didn't get a personal best in the 100-yard butterfly, but touched the wall in a respectable 1:04.84.
The team also earned a new personal best in the 400-yard freestyle relay with a clocking of 4:09.04 by swimmers Churchill, Binfet, Lynch and Wagner to earn third-place honors behind Davis (3:46.79) and West Valley (4:04.31).
Grandview Coach Patrick Elerding was encouraged by his team's progress.
"The boys had a great meet," he said. "They scored very well in their events, setting themselves up nicely for districts next weekend."
West Valley emerged with the highest point total at the meet with 343 points. Grandview placed sixth out of the 10 schools with 99 points.
The next opportunity for the Grandview swimmers is the District meet being held at CWU this coming weekend.