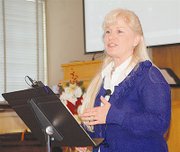 GRANDVIEW - Setting a theme of "more" in 2012, Grandview-based Life Options was able to expand its operations and save 150 lives last year.
That's according to Kathy Iwami of Life Options, who spoke at Grandview Christian Church yesterday, Sunday, for a Sanctity of Human Life presentation.
Besides adding a Sunnyside office, Life Options last year also opened a medical office next to its business location in Grandview.
In addition, the center obtained a new ultrasound machine in 2012. Life Options' old machine was donated to a medical mission in Honduras. "Talk about expanding your territory!" Iwami said of the center's reach overseas.
Iwami says the focus is on more than helping moms and dads with unexpected pregnancies, but also treating the spirit.
"We don't have a choice to be born, but we do have a choice to be born again," Iwami says. "God wants us to have life to the full."
To that end, workers with Life Options were given the opportunity to share the Gospel with 266 people last year, with 113 making commitments to God re-dedicating themselves.
Iwami says Life Options wants to expand on this theme of "more" in 2013, including a new website and radio campaigns on a popular hip-hop music station.
She notes half of the clients who found Life Options in 2012 did so using a mobile device.
The non-profit hopes to go mobile itself in 2013, with a goal of rolling out a mobile unit that can travel to places without pregnancy centers.
Iwami says the Life Options dream is to have a mobile center that could reach out to the YVCC or CWU campuses, or even set up near Planned Parenthood outlets so expecting moms can choose a life option close by.
"Choose life," she says. "It's what God intended for us from the very beginning."