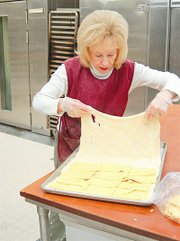 GRANDVIEW - The Grandview Boys Swim Team Booster Club is holding a cheese zombie fundraiser, which means people can take the tasty treat home to enjoy.
People can pre-order cheese zombies now from booster club members or at the booster website at ghsswim.com. A full order consists of 12 cheese zombies and is $24, while a half order will have six zombies for $12.
Pre-orders will be taken until Wednesday, Feb. 6, and the cheese zombies will be baked and delivered on Thursday, Feb. 14.
Cheese zombies are a simple concoction made for school lunches consisting of American cheese sandwiched between two layers of bread and baked to golden brown.
Baking the treats will be Virginia Binfet, grandmother of one of the swimmers and the head baker at the Grandview School District. Binfet is known for her "scrumptious, to-die-for cinnamon rolls."
Cheese zombies may have originated in Grandview. Binfet said that a former baker at the district received a large amount of government cheese and needed to make something with it. So she sliced it up and put it between bread dough.
Binfet also said a food services supervisor at the district later attempted to get rid of the dish. After the uproar had died down, the supervisor said she would never mess with zombies again.
Money raised in the fundraiser will go toward equipment and travel expenses that the school district does not fund. The swim team was unable to attend a meet in Seattle this year due to lack of funds. The booster club's goal is to make sure that doesn't happen again.