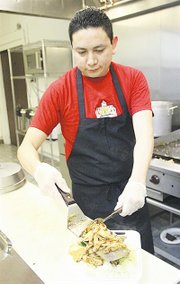 Choosing to open a business in Sunnyside seemed like the perfect location for Fernando Tellez to carry out a lifelong dream of his.
He and his brother, Rene, live in the Tri Cities, but say opening a teriyaki restaurant in that metropolitan area would be much like opening a Mexican restaurant in Sunnyside; it's been done before.
But the Tellez brothers wanted to bring something new to Sunnyside; and making its menu items affordable is just icing on the cake.
Everything on the menu at Teriyaki Zone, located at 325 Yakima Valley Highway in Sunnyside next to H&H Furniture, is priced at less than $10. Customers can also enjoy Wi-Fi free of charge at the local eatery.
The duo opened for business earlier this month and say they plan to market a new kind of cuisine to the Sunnyside area, "a Hispanic twist on the teriyaki grill," said Tellez.
Tellez has been cooking for more than a decade and has decided that his Sunnyside restaurant will feature teriyaki and tempura.
"I just love cooking," he added.
Teriyaki Zone is open from 11 a.m. to 8:30 p.m. daily.
Tellez says he enjoys successfully trying new recipes, which makes owning his own business where he can cook up a storm, truly, a dream come true.