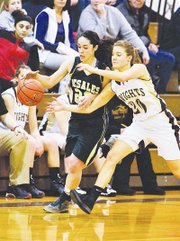 Despite lower than usual scoring from some of the Lady Knights' top players, Sunnyside Christian defeated the DeSales Irish 51-38 last night.
"It wasn't one of our better games," said Lady Knights Coach Al Smeenk. "It was not a real good shooting night."
Leading the scoring for Sunnyside Christian was Kara den Hoed, who bucketing 16 points. But Lady Knights' standout player Stormee Van Belle was held to only 6 points in the win.
"We learned that if one of our players isn't on, someone else steps up," said Smeenk.
In this case that 'someone' was Micki Williams, who canned 11 points, including all her free throws and a couple of treys.
"Micki really came through for us," said Smeenk. "She did a really great job."
Rita Dalrymple only scored 6 points for the Lady Knights but grabbed 10 loose balls off the glass. Katelyn Banks found the bottom of the net for 8 points and Annie Brouwer contributed 4 points.
Smeenk said playing the Irish was good experience for his team as they prepare for the playoffs.
"DeSales is ranked seventh in the state," Smeenk said of the class 2B team. "This was a very good test for us."
The No. 2 ranked Lady Knights, a class 1B team, got off to a slow start, losing the lead early and fighting to regain it. In the second quarter Sunnyside Christian scored 14 unanswered points to take the lead.
"That was probably the turning point in the game," said Smeenk. "It was a great game the whole way through. DeSales was the most athletic team we've played all year. They pressed us all the way."
The Lady Knights (9-0, 18-0) will play an early game tonight, Jan. 30, at home against Klickitat, starting at 5 p.m.