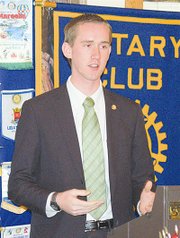 "The important thing to know is to love everything," said Joel Crowther, speaking to the Sunnyside Noon Rotary Club about his experiences on his two-year mission trip to Mexico.
The young man returned from Mexico just more than a week ago with pictures and a strong appreciation for the people of Mexico.
Crowther explained how his church, the Church of Jesus Christ of Latter-Day Saints, encourages young men to go on missions.
"It's entirely voluntary," he said, telling the group how his family helped pay for clothing. His trip was to the Mexico Cuernavaca Mission, which is an area directly south of Mexico City. One of the major cities in the region is Alcapulco.
Crowther also explained that he didn't know a word of Spanish before he went on the trip.
"I spent two months in Utah learning the language," he said. "When I got down there I realized I hadn't learned as much as I thought I had."
Once in Mexico Crowther spent a lot of time working on service projects. He showed pictures of himself re-roofing houses, building chicken coops and giving English and piano lessons.
Crowther described the typical day in the life of a missionary as "get up, study a few hours, then teach or serve the rest of the day."
All missionaries are sent out in pairs and stay at apartments in the towns they are serving in. Over the two years, missionaries are moved around and switch companions frequently.
"I had about 10 different companions, most from the United States, one from Peru," he said. He also told the group he served in four different areas for roughly six months each.
Crowther started out on the coast at a beach town, then moved inland to a small farm town that felt a lot like home to him.
"I liked that a lot," he said. His last year was spent in two different cities.
He told the group that Monday was laundry day. The missionaries would write to their families and there was time for adventures and sightseeing as well. He showed the Rotarians pictures of the local pyramid, a palace of Hernan Cortes built in 1526 and a large cathedral.
In one town the people had a second job beyond farming. The entire population, including the children, would hand sew soccer balls. Crowther tried his hand at it, as well.
"They sew four or five soccer balls a day," he said. "I could do that many in a year."
While he loved everything, he grew to really love food.
"I consider myself Mexican in that respect," he said. "I really came to love the food there."
Crowther described some of the meals he'd tried, including a feast with an entire goat and corn on the cob with mayo, cheese and salsa. He also said he tried a dish of bugs covered in spices.
But he said he came to love the people the most. He showed a picture of a home that housed 12 people. It barely had two walls.
"The family didn't complain," he said. "I realized how blessed we are to have electricity and running water. They were poor and had to sacrifice just to get to church. And they were still happy."