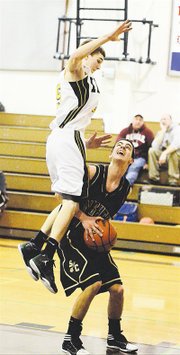 At first blush it looks like 2B DeSales should have earned a second win this season over host 1B Sunnyside Christian last night.
After all, the Irish scored nearly the same amount of points and created the same number of turnovers Tuesday night as they did in a 51-34 thumping of the Knights three weeks ago.
But the outcome was far different last night, with Sunnyside Christian shooting to a 70-50 win over DeSales.
"A big part of it is we executed our offense and shot the ball really well," said Knight Coach Brian Bosma.
In fact, Sunnyside Christian ran its offensive schemes so well the Knights only had to toss up four 3-point attempts and did most of their damage within eight feet of the bucket.
For the game, Sunnyside Christian nailed 67 percent of its 2-point attempts and 50 percent of its 3's.
That's in contrast to DeSales shooting about 33 percent from both 2-point and trey range.
Even so, DeSales' pressure defense tested the Knights and Sunnyside Christian led just 19-16 after one quarter. The home team pushed out its lead to double figures, 35-25, at the half and gradually pulled away from there.
Bosma says the Irish pressure defense that so stymied his team three weeks ago - and forced 22 turnovers last night - was in some ways DeSales' undoing.
"They play a very aggressive defense," the coach said. "They're looking for steals and when they don't get them they're out of position."
Bosma also praised DeSales for playing tough the whole game, especially with two Irish starters out due to illness.
The Knights had four scorers in double figures, including reserve Wyatt Hoff's 12 points on 6-of-7 shooting. "He was very efficient," Bosma said of Hoff, noting he gathered in the offensive rebound on his only missed shot and put it in the bucket.
Alex Brouwer led all scorers with 20 points for the Knights, while Brant Bosma and Brandon Broersma each tallied 11 points.
Adam Eskil led a balanced DeSales attack with 12 points.
Coach Bosma says the biggest difference in his team now - especially on offense - in contrast to the big loss at DeSales three weeks ago is experience.
"I would say we looked like we're so much more comfortable running the offensive sets," he said. "Instead of thinking about running the sets and where we need to be on the floor, it's more natural and we can focus our energy on exploiting what the defense gives us."
With a first-year coach and several new players, Bosma said it just took time for the 2012-13 Knights to adapt and play together.
The Knights (9-0, 16-2) play their last home game of the season tonight (Wednesday) against Klickitat.