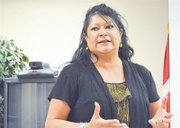 Members of Sunnyside's Daybreak Rotary Club this past Wednesday morning learned the Center for Children and Youth Justice has selected Sunnyside and Yakima County to set up a sex trafficking task force.
Suzi Carpino, who has been promoting awareness of human trafficking locally on behalf of Sunnyside's Promise, told the Rotarians that officials from the Center for Children and Youth Justice recently met in Sunnyside to develop the idea of setting up the task force and to develop protocols for recognizing the issue of youth exploitation.
In 2011, said Carpino, officials could identify two youngsters in Sunnyside who were believed to be victims of sex trafficking. That number has grown to 18, according to those who have since been trained to identify such youths.
Sunnyside's Promise hired Carpino when the organization received a Juvenile Rehabilitation Association grant and it was learned some Sunnyside youngsters were being sexed into and out of gangs.
"We realized the girls not only had to participate for initiation, but on a regular basis so the gangs could acquire drugs, guns, alcohol and other items for trade," said Carpino.
She said she met with Rob McKenna, who was the Washington state attorney general, at the time, to address the issue of human trafficking. It was determined the issue affects many communities across the state, including Seattle and Spokane.
Carpino said victims of sex trafficking have revealed they do not realize their circumstances until they are in too deep. They live in a state of constant fear, believing that their lives and the lives of their family members are in danger.
That fear prevents victims of sex trafficking from reporting their circumstances to persons of authority.
Last June legislation was passed, recognizing that those traded for sex are victims, rather than criminals.
"Victims can be as young as 12-years-old...there are boys who are victims, as well," Carpino told the Rotarians.
She said it is important to promote awareness of the issue, educate individuals who come in contact with youth and to train law enforcement officials making contact with the victims.
New legislation in 2011 was also passed to further penalize those who are caught in the act of buying sex from a minor, said Carpino.
She said there are also gang enhancements for those who are responsible for exploiting the victims of sex trafficking, if it is proven the enterprise was for the benefit of gangs.
Carpino said, "The goal and hope is to create awareness of sexual exploitation and to train members of law enforcement, educators and prosecutors, and to help families heal."
She said it has been especially difficult to help families understand the children are victims of a crime.
"Commercial sexual exploitation of children happens everywhere...it can happen to members of every race and background, according to the Center for Missing and Exploited Children," Carpino said.
She wants members of the community to recognize the issue and realize there is no immunity from it.
"It's about recognizing the warning signs...they are there," Carpino told the Rotarians.