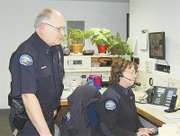 GRANDVIEW - Anecdotes don't come easily to Grandview Assistant Police Chief Mark Ware, who is putting in his last day on the job today (Thursday).
"I tend to try to forget them," he said. "But there are some that people won't let me forget."
One he got some ribbing about was his first pursuit as a police officer. It took place while he was working in Wapato on his first job.
"Back then they just threw you the car keys and said 'get out there.'" Ware said. "I was just a snot-nosed 22-year-old, no academy yet. Not much formal training."
The chase started in Wapato when a driver wouldn't pull over. He pursued the car up Highway 97 toward Yakima.
"I was trying to get help, I didn't really know what I was doing," Ware said.
The driver he was pursuing pulled her car into a large gravel parking lot at a fruit stand and attempted to ram Ware's car. He tried to avoid getting hit. The result was the two cars going in tight circles around the lot.
About that time a state trooper arrived. Moments later Ware was able to align his cruiser with the car he was pursuing, only to get hit head-on at a low speed.
"The trooper took care of the DUI," Ware recalled. "He had to break the window to get her out of her car. But he didn't let me forget about what he saw when he arrived, the two cars going in circles."
Ware said for his part he was terrified. He'd damaged his car and was afraid he'd get fired.
But he wasn't. Ware spent most of 1975 and 1976 in Wapato before being hired by the Grandview Police Department in September of 1976. He said he was still a bit green on the night he nearly shot Santa Claus.
The police patrol the local schools to check that no one is messing around and all the doors are closed. On that night he noticed a door cracked open and went to check out the building.
With flashlight in one hand and the other hand on his gun, he checked the school for any signs that someone was in the building.
He checked out a bathroom that had a divider, and as he came around the corner he spotted a man-sized shape in front of him. It took him a moment to calm down and realize it was a life-sized stand-up of Santa Claus.
"My heart just about stopped right there," he said. "I nearly fired on it."
Ware said that while he doesn't remember too many events, people in the office do. He said one of the favorites around the office was the time he launched a patrol car off a training course.
Ware was driving the course with Kal Fuller, who was recently named to replace him as the new assistant police chief. Fuller was a passenger in the vehicle. Ware was racing down the lane change section of the course when his left rear tire dropped off the edge of the course. When he steered back onto the course the rear of his car was fishtailing.
The next section of the course had a high bank. Ware tried to get the car back under control but drove straight up the bank and launched the car over the other side.
"The other guys were watching, and all they could see was the bottom of the car as it cleared the bank," he said. "Then it flopped down, bang, in the dust.
"They gave me a 10 for the launch, but only a nine for the landing," he joked. "Thank goodness the cars we used were due to be rotated out of the fleet. I made quite a mess."
He said he sat stunned for a moment after the landing, then turned to Fuller and calmly asked if he was alright.
"There was a heck of amount of dust," Ware said.
Ware doesn't have major plans for retirement. He hopes to get through some honey-do's and yard work and maybe watch some Mariners games.
But he won't be completely going cold turkey.
"I'll probably be back on Friday to sign up as a volunteer," he said. "There's always something that needs to be done. I'll keep my foot in the door, wean myself off of it."
He did say it will be strange to come back to the police department and not have somewhere to sit. But he won't miss the headaches and heartburn.
"If you've got stock in aspirin or heartburn medicine you'd better sell," he said. "Use will be going way down. Some days I've lived on aspirin."
He said that, although it sounds like a cliché, he'll miss the people at the police department the most.
"It's been a good ride," he said.