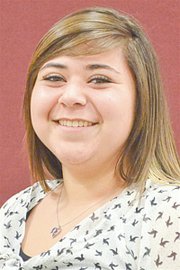 Turns out, the Sunnyside High School girls bowling team's season didn't come to a close with last week's District tourney loss to the Hanford Falcons.
Team-wise, the Lady Grizzlies were ousted from the playoffs in the loser-out match against Hanford on Tuesday, Jan. 22. But unbeknownst to school officials, several of the Sunnyside bowlers got to move on to the District finals in Yakima the following day, to try and qualify for the 2A/3A State tournament on an individual basis.
And, one of those Lady Grizzlies who was given new life took full advantage of the situation. SHS junior Johanna Chumley nailed down one of the four individual spots to the State tourney.
Chumley will open State tourney action this coming Friday at Tacoma's Narrows Plaza Bowl. The opening qualifying round is scheduled to start at 10 a.m. on Friday. The finals round at State is slated to begin at 8 a.m. the following day (Saturday).
In earning a berth to State, Chumley rolled a 442 three-game series at Nob Hill Lanes in Yakima in the District finals. Her individual game scores were 158-124-160.