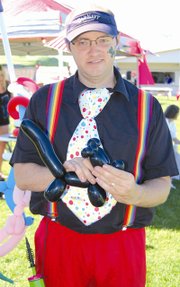 Job Wise's inspiration for learning how to twist balloons was a party clown at his sister's birthday celebration when he wasn't yet a teenager.
He said he liked clowns, but didn't think he could become a full-fledged clown like the one he saw that day.
"I realized I wasn't up to everything they do like juggling and magic tricks," said Wise. "My favorite part of the show was the balloon twisting."
So he decided to learn how to twist balloons himself by hitting the local library.
"I looked it up in books," he said. "I watched instructional videos too, but not until I got older. I just learned from books when I was young."
He got good enough as a child that he performed as a clown at birthday parties. His skills, even now, are entirely self-taught.
Wise is originally from Oakdale, Calif. He moved to Sunnyside in 2008 and is now the production manager at the Daily Sun News. He tried accounting first.
"It wasn't my cup of tea, so to speak," he said. "I went to graphic design school and liked it much better."
Wise is married with four children and another on the way. He practices his balloon art with his children. The two oldest have picked up some skills and are able to make simple figures.
Wise himself can create more than 25 different figures, including dogs, cats, monkeys, swords and bows with balloon arrows. He mostly does his balloon twisting at private birthday parties.
Wise has some advice for people who want to enjoy their balloons longer. Keeping balloons cold will prolong their life, he said, so storing them in an ice chest might be the best way to get them home intact. He admits that a freezer drawer at home is dedicated to balloons in progress.
Wise also has advice for people who want to learn the skill of balloon twisting.
"Stretch balloons before you blow them up and after they are blown up," he said. The movement makes the balloons softer and easier to twist, according to Wise.
"Balloons pop more easily if they are tight," he said.
He also suggests getting higher quality balloons by looking online. The balloons a person can buy at retail stores pop more easily than ones purchased at a hobby shop. Balloons made specifically for twisting can be found online.
Wise's first attempt at balloon creations in public came on the Fourth of July, when he set up a tent at Sunnyside's Clem Senn Field.
His next performance will be making balloon figures for free at Bleyhl's Western Days this coming Saturday, July 13, in Grandview.