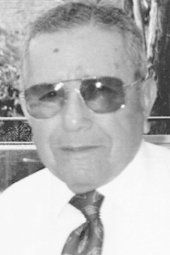 Oliver R. Vasquez, 96, a longtime Sunnyside resident, passed away with his family at his side on Monday, June 3, 2013.
Our beloved father, grandfather and great-grandfather was born Jan. 22, 1917 in Havana, Texas to Gregorio and Idelfonsa Vasquez. It was there he met the love of his life Fidela (Della) Ochoa and later married on Dec. 13, 1937 in Edinburg, Texas.
Dad joined the U.S. Army and was stationed in Germany. When his duty ended he returned to Edinburg and it was there where three daughters were born, Yolie, Elda and Christina. After working in various jobs he decided to move his family north to Sunnyside in 1950. It was there that three additional daughters were born, Norma, Rosemary and Cindy.
Dad was a hard worker. He always had a job to care for his family, never asking for handouts. He was hired with Welch's as seasonal help, but with dad's dedication he was hired as a full time employee, which lasted for more than 30 years. It was at this time, dad and mom bought a 20-acre farm south of Sunnyside. For many years they raised asparagus and concord grapes. They both enjoyed pruning and tying their own grapes. They said it gave them a sense of peace, time to talk to God and to give thanks for their many blessings. They both continued to do this until dad's health forced him to retire from his active farm work for which he enjoyed.
Dad was diagnosed with Alzheimer's in 2003. In 2005 mom became seriously ill, where she too needed care and she could no longer care for dad, so it was then that he became a resident of Grandview Hillcrest Nursing Home. It broke our hearts to take him from his place he called home for 33 years, but we knew that he needed 24 hour care.
In October of 2005, mom passed away. We promised mom we would take care of dad by visiting and helping him daily with feeding, grooming, praying and the many hugs and kisses before bedtime until the day he met his heavenly Father. We know in our hearts that mom was always looking down on us and so proud of her girls. We can just hear her saying, "My daughters are so wonderful."
Dad lived a rich and wonderful life full of many blessings and filled with the Lord. If you would drop by the house anytime you would always see his Bible open on the kitchen table. His many hours of devotional time was very important to him. Dad loved each and every one of us unconditionally. He taught us the meaning of love and respect, which we will continue to pass down to each of our families.
He is survived by his children, Yolie (Oscar) Hernandez of Sunnyside, Elda (Ismael) Arevalo, Christina (Jesse) Palacios, Norma (Mike) Drollinger, all of Grandview, Rosemary Ritchie of Tacoma and Cindy (Michael) Bush of Escondido, Calif.; and numerous grandchildren, great-grandchildren and great-great- grandchildren.
He was preceded in death by his loving wife, Fidela O. Vasquez of 68 years; brother, Arturo Vasquez; sister, Lydia Chavana; grandson, Richard V. Hernandez; and great-grandson, Anthony James Hernandez.
Even though we will miss you every day, it gives us comfort in our hearts knowing you will be with mom again. Your time here on earth is done, but your new life with our Lord and mom has just begun. Your spirit will continue to live in each and every one of us. We will always have such beautiful memories that we will share with our kids for generations to come. Love you. Love you.
Visitation will be held Wednesday, June 5, 2013, from 5 to 8 p.m. with recitation of the Holy Rosary at 6 p.m. at Smith Funeral Home Chapel in Grandview. Mass of Christian Burial will be held on Thursday, June 6, 2013, at 1 p.m. at Blessed Sacrament Catholic Church in Grandview, with final burial commencement at Lower Valley Memorial Gardens in Sunnyside.
Those wishing to sign Oliver's on-line memorial book may do so at www.funeralhomesmith.com.
Smith Funeral Homes LTD and Crematory in Grandview is in charge of arrangements.