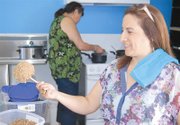 The most annoying part of eating a caramel apple can be figuring out how to chomp on the sticky sweet without getting hands or face gooey. Ana Garza has a solution for the problem: she'll pre-cut the apple for you and provide toothpicks to spear the pieces.
Mom's Candy Apples has opened on Yakima Valley Highway in Sunnyside and folks are welcome to stop in and have an apple chopped for them in the store.
"They can take them whole or cut, whichever they prefer," said Garza.
And while the storefront will allow residents of Sunnyside to drop in anytime for a sweet, Garza said the majority of her business is orders for parties.
"I'm very busy," she said. "We deliver, and people are spreading the word."
The most popular apple Garza sells is not actually topped with a caramel flavor, although she has plenty of choices of toppings to go with the caramel. She's been selling a lot of tamarindo apples, which are Granny Smith apples coated with a tamarind paste and lightly dusted with chili powder.
"Everyone loves the tamarindo apples," said employee Gracie Rivas. "We sell a lot of them."
Traditional caramel is also popular. In addition to simple caramel-covered apples, Mom's Candy Apples offers caramel apples hand-dipped in a variety of different chopped sweets, including almonds, pecans, Oreo cookies, pretzels, Butterfinger candies and Reese's Peanut Butter candies.
Garza uses locally grown, premium Granny Smith apples.
Garza said she hopes to make Sunnyside known for its candy apples. She hopes her business will encourage people to visit the city.
Garza has been making candy apples since February. She learned how to make tamarindo apples after moving to Texas. She said her children got homesick for Sunnyside, so she came back. Once back home, she introduced family and friends to the apples. She quickly realized there was a demand in the area for the treats.
"People wanted me to prepare trays of them for their kid's parties," she said. "Then they wanted them chopped. People love it."
Garza sold an apple to Jose Salas of Imperial Printing, who immediately decided he wanted to invest in the business.
"I provided a bit of the capital and some advice," said Salas. "Ana does everything else. She works hard at it."
Now the store is open, and Garza hopes people in Sunnyside will try out the different apples. Eventually, she hopes to expand to other candies. But for now, the apples are enough.
Mom's Candy Apples is open from 10 a.m. to 8 p.m. Monday through Saturday and includes a drive-through window as well as restaurant seating inside.