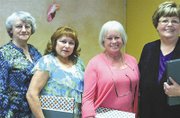 Debbie Amos was installed as the incoming president of the Sunnyside Community Hospital Auxiliary during ceremonies held last Thursday at Conquistador in Sunnyside.
Serving with her will be Anthony Jonson, vice president, Yolle Guizar, secretary, and Charlene Maling, treasurer and fundraising chairperson. Karen Lemmon was elected as hospital gift shop manager. Daniel Patterson handled the installation duties.
Maling, the outgoing president, gave special recognition to Lemmon for her management of the all-volunteer staff at the hospital gift shop.
"We are always looking for more volunteers who would like to help with this service," Maling noted.
Also honored was Festival of Trees Chairperson Jessie Correa for her work on the very successful 2012 festival. "As a result of the auxiliary's efforts, the auxiliary is able to distribute $12,000 in scholarships again this year," Maling explained.