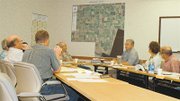 Property owners impacted by projects this winter in the Sunnyside Valley Irrigation District are invited to a meeting next Wednesday, June 12, to learn about the planned upgrades.
In comments to the SVID Board of Directors yesterday, Tuesday, it was announced that 100 letters were sent to property owners in areas planned for work this winter.
Ron Cowin is SVID's assistant manager in charge of engineering, and he told the board that the meeting will be held at 5 p.m. next Wednesday at the SVID office's meeting room downstairs. The office is located at 120 S. 11th St. in Sunnyside.
In follow-up comments this morning, Cowin said the areas slated for improvements this winter are the Matheson Lateral near Grandview and the 3979 Lateral east of Sunnyside, off of Edison Avenue and Factory Road.
The two projects combined will see about six miles of pipe installed, Cowin notes.
Next week's meeting, he says, is a chance for land owners to learn about the work ahead and what it might mean for them.
"We'll be piping open canal systems, taking out the old concrete delivery systems and replacing them with flow meters," Cowin says. He adds that SVID crews will be working within easements on each of the properties impacted.
"We'll be working with them one-on-one," Cowin says of those owning property in the areas targeted for upgrades this winter.
Based on research done to date, Cowin says there should be few if any obstacles - such as fences or trees - that SVID will encounter when working on the properties.
While the property owners will have crews working on their land - within the confines of easements - Cowin says the upside is worth it.
"The benefit is it will get rid of the open ditches," he says. "We won't have the evaporation losses and seepage we have now."