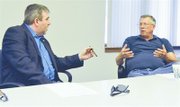 Cathy Kelley, the project coordinator for the recently established Sunnyside Connects organization, delivered a strong message this past Tuesday to others involved with the group. In essence, she said action is needed on several fronts to steer local youth away from consuming alcohol to ensure they have every opportunity to succeed.
Following a preliminary discussion by the group's members that clarified the roles of the multi-level organization, Kelley provided an update from the group's prevention redesign initiative committee. She said the committee has looked at data regarding risk factors and assets to address adolescent behavioral issues.
That committee also reviewed results from the 2012 Healthy Youth Survey, which provides information regarding certain behaviors in local youth.
As a result of the study, said Kelley, it is obvious that youngsters are exposed to and have an issue with underage drinking that leads to poor performance in school, youth delinquency and mental health problems.
The prevention redesign initiative committee evaluated common factors that may lead to underage drinking, such as ease of access to alcohol, a perception that it is okay to drink alcohol and the belief that they will not be held accountable for drinking under the legal age.
Kelley said there are many contributing factors, including parents and family members providing alcohol to children and the perception that school officials do not enforce the policies against alcohol use.
She told Sunnyside Connects representatives that there are several strategies that have been recommended by the prevention redesign initiative committee.
"(Sunnyside Deputy Police Chief) Phil Schenk is a member of the committee," said Kelley, stating the police department is willing to more strongly enforce laws prohibiting minors from consuming alcohol.
"We need to increase the number of developmental assets," Kelley said, stating there are other strategies that can help promote awareness regarding the dangers of underage drinking.
For the schools, she said, it is the recommendation of the committee that prevention and intervention services for students as young as seventh grade be implemented.
Kelley said parents can also be educated about the dangers of alcohol use through English and Spanish awareness programs.
The Sunnyside Connects group plans to revisit the issue again when it next meets on Wednesday, June 19, at 11 a.m. in the conference room at Sunnyside Community Hospital.