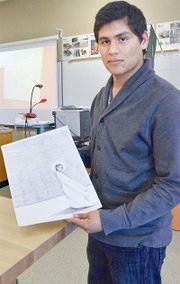 Five years ago the selected artwork for the annual Show 'n Shine poster was designed by Sunnyside High School senior Jesus Mendoza, who had been designing artwork featuring cars since the sixth grade.
This year it is his little brother, Johnny, whose artwork was chosen for the car show's promotional poster.
A senior this year at Sunnyside High School, the younger Mendoza also has a knack for drawing inspirational and thought-provoking designs.
Mendoza said this year's artwork was inspired by a photo reference provided by organizers of the car show fundraiser. The proceeds from the show benefit the class of 2013 senior graduation party.
That's not why he submitted the drawing of a classic pick-up truck, however. He said he was challenged by the task. He chose to change the angle of the vehicle and used a two-point perspective to create a depiction of the vehicle unlike the photograph.
"I didn't want to be a copy machine," Mendoza said.
Typically his art is not of vehicles, either. He said he prefers to draw portraitures of animals or people and he likes surrealism.
The drawing of the pick-up featured on the Show 'n Shine posters was the first vehicle he had drawn since middle school.
"I usually draw organic things," said Mendoza, adding he likes to experiment with different styles of art as well.
He is currently an advanced art student in Saul Martinez's class at SHS and hopes to pursue an art career.
"I have taken 10 art classes during my high school career," said Mendoza, stating he has applied to Cornish College of the Arts but may attend Evergreen State College in Olympia.
"They provide all art students, even freshmen, with their own art studio," said the SHS artist.
Mendoza admits he isn't the only member of his family interested in art, considering his brother also aspired to use his talents in the field.
He said art is an outlet for him. "I use it to express myself emotionally."
Mendoza said much of his work is melancholy by nature because he is often times venting through his drawings.
"I'm also an animal rights activist," he said, noting many of his animal drawings are intended to promote awareness of animal abuse and neglect.
Mendoza said that can be a sad subject.
As for the drawing on the Show 'n Shine poster, he said he was given two days to complete the project and dedicated between five and six hours to the work.
"I'm glad they selected it," he said of the organizers of the show.
The ninth annual SHS Show 'n Shine will be held on Saturday, March 23, at Clem Senn Field.
Registration for the show begins at 10 a.m. and awards will be presented at 3 p.m. The trophies have been designed by the SHS Fusion Tech class.
The entry fee is $10 per vehicle or $5 for students with student ID.
Spectators will be charged a fee of $2 for students, $3 for adults. Children under the age of 5-years-old will be admitted free of charge.
The gates open at 11 a.m.
For more information call 509-837-7760.