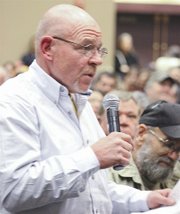 YAKIMA - As a joke, Washington State Liquor Control Board chair Sharon Foster offered figurative "brownie points" for those who kept their comments under two minutes at last night's public forum on the implementation of I-502.
State liquor board directors listened as nearly 50 concerned citizens spoke at the Yakima Convention Center at the seventh of eight planned meetings statewide.
State voters passed I-502, legalizing the recreational use of marijuana during the last voting season. The state's liquor control board has been charged with implementing the law and creating the rules and regulations in which state residents are to abide by.
Before beginning drafts of rules and regulations, state liquor board directors wanted to listen to the public's opinions on the matter.
Many at the meeting in Yakima were willing to speak, but the opinions varied from asking the board to squeeze out tight regulations, while others asked for lax rules. The demographics of speakers included longtime recreational users, medical marijuana patients, mothers, substance abuse counselors, pastors, lawyers and even children.
A resounding opinion among many of last night's speakers echoed as a majority of the citizens asked board directors to consider the state's children, those under 18 years old who will not be allowed to consume or participate in the recreational use of cannabis, but will be exposed to the growth, sale and purchasing of the newly legal product.
Prosser area resident Jon Dennis addressed the board, saying he'd like his family to be considered as growers of the product as he lives in rural Washington state.
"I think we can do this responsibly and intelligently," the medical marijuana patient said.
Dennis also said as a stay-at-home father, he'd like to pursue the career of growing marijuana in order to have his wife at home, working alongside him.
"It's completely selfish," he added.
But others asked directors to limit grow operations to the indoors. One concerned mother said that allowing outdoor grows in rural Yakima County could expose her and many others' children to the product at an age they aren't comfortable with.
A Benton County winery owner gave the board just one piece of advice, "Don't screw it up."
Others commenting at the meeting asked board directors to supply infinite amounts of business licenses, while others asked for a short list of growers, producers and retailers.
Twelve-year-old Alejandra Adame of White Swan asked the board to consider children her age when adopting the rules.
"My concern is with how the youth will react, this new law gives them more access to (the product)," she said.
The liquor control board says they plan to issue marijuana licenses after conducting criminal and financial background checks and notifying local government authorities of the application.
Licenses for the growth, processing and retail of marijuana will mirror liquor licenses, with a $250 application fee and $1,000 annual renewal fee.
In addition, each time the product changes hands, the state plans on implementing an excise tax that is equal to 25 percent of the selling price on each sale between producers, processors and retailers.
Board directors hope by December of this year licenses for growers, producers and retailers will be issued and effective.
For more information on the implementation of Initiative 502, visit www.liq.wa.gov.