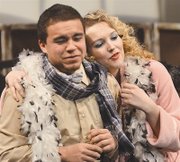 My expectations were high this past Saturday when I attended the Sunnyside High School production of "Annie."
I was left a little flat, although, for the most part, it was an endearing musical.
I think the stage crew did a great job with the sets, reproducing the interior of a 1933 New York orphanage in the first scene. The crew also made it easy to change the set between scenes with simple props that still provided the audience a good idea of where the characters were.
The lighting was pretty good, too. When the sun set, low lighting provided just the right ambiance, such as in the scene that is staged in Hooverville.
The costumes were also just right for the production. I give mega kudos to whoever designed the costumes for the orphans because those poor little girls certainly did look haggardly and unkempt.
As for the acting and singing there is a lot of great talent at SHS. I think Meagan Meyers does a swell job as Miss Hannigan. She had the swagger of a drunkard and her singing was just off-key enough to convince audience members she was intoxicated. I had some difficulty believing her to be as wretched as the character really is, however. Something about the way she bullied the orphans in her care didn't quite seem as menacing as I believe Hannigan is supposed to be.
She was cute, but not despicable.
Alexis Arambul portrayed the title character, Annie. She did a respectable job, however I never quite warmed to the main character. I wasn't charmed and I didn't view her as tough and street-smart like I anticipated. In one scene she put up her fists in a show of aggression, but it was neither cute nor convincing.
Kayla Rodriguez as the secretary of Mr. Warbucks, Grace Ferrel, was a true delight. Her melodious voice during the singing numbers put a smile on my face and made me realize why I was watching the performance.
Warbucks was portrayed by Avery Gardner, who was indeed stuffy and exuded power that is indicative of a billionaire. Sadly, he never seemed to soften. As a result, I was barely convinced of his growing love for the little orphan whom he had welcomed into his heart and his home.
Gardner did elicit a laugh or two with his delivery of lines like "...Elliott Ness...just take him off the Capone case." During a radio production he read the script provided him by the radio host line for line, getting the audience to giggle some more.
Rooster Hannigan and Lilly St. Regis, performed by Gavin O'Leary and Sierra Rogers, were costumed wonderfully. The characters represent trouble and I believe O'Leary does a good job projecting the danger that comes with associating with the couple.
The ensemble cast also kept me interested in the show. They did a spectacular job with the singing and choreography by Felicia Abbott and Yaritza Salmeron.
Overall, I enjoyed the Sunnyside High School performance, but it didn't wow me like many other performances have. I think "Annie" is one of my favorite musicals ever and there was just some piece of magic missing on stage.
"Annie" will again be staged this coming Thursday through Saturday, March 7-9, at 7 p.m. each night. Tickets cost $6 for adults, $4 for students and seniors.
Thursday special ticket prices are being offered to girls of all ages. Admission will be $3.