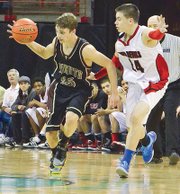 SPOKANE - Just when it looked like Sunnyside Christian seemed poised to drop a nearly 20 point lead and a state title bid, Brandon Broersma came up big on the biggest stage to spark the Knights to the State 1B basketball title last Saturday night with a 44-36 victory over pesky Neah Bay in the championship game.
It all looked so easy for most the game for the Knights as they cruised to an early 11-4 lead sparked by 4 points, five rebounds and three blocked shots from Broersma in the first quarter.
Broersma swatted away 11 Neah Bay shot attempts in the game on the way to a triple-double outing that included 12 points and 13 rebounds.
Sunnyside Christian built its lead to 22-10 at the half. With six minutes to play in third frame the Knights sported a big 28-10 advantage.
The title was at hand. It was almost time to pop the sparkling cider.
Almost, but not quite, as the Red Devils threw a monkey wrench in the mix with a 26-10 run over the next 12 minutes.
The run saw Sunnyside Christian struggle against Neah Bay's defense to the tune of 11 turnovers in a span of 12 minutes - including three in a span of 24 seconds.
"We were trying to slow down and control the pace and that led us to forcing some shots and turnovers," said Sunnyside Christian Coach Brian Bosma.
The key thorns in the Knights' side during the Neah Bay rally were Abraham Venske and Josiah Greene, who combined for 13 points, seven rebounds and two steals for the Red Devils during that 12-minute surge. Venske and Greene led Neah Bay in scoring with 10 and 9 points, respectively.
When the dust settled, Sunnyside Christian led just 38-36 with 2:21 to play in the championship tilt.
It stayed that way inside the final minute when Neah Bay had three chances to tie the contest.
And that's when the 6-7 Broersma came up with his biggest plays of the year.
Broersma blocked the Red Devils' third and final attempt, then going the other way was fouled and went to the free throw line. The senior, who'll play hoops next season for Dordt College in Iowa, calmly canned both charity tries to make it a 40-36 game with 50 seconds to play.
"They wanted it bad, but in the end so did Brandon," Bosma said of the big man's pivotal play in the final seconds. "That was pretty clutch."
From that point the Red Devils had to foul, and Sunnyside Christian knocked down 4-of-6 free throws - including two more by Broersma - down the final stretch to ice the title.
It is Sunnyside Christian's fifth boys state championship in the last seven years.
As he has been all season, Alex Brouwer was Sunnyside Christian's leading score Saturday night with 13 points to go with seven rebounds and four assists.
The near collapse against Neah Bay was similar to Sunnyside Christian's semi-final tilt last Friday against Pomeroy. In that one, the Knights saw a double-digit lead trimmed all the way down to one point, 40-39, with just two minutes to play before holding on for a 50-40 victory.
Timely free throw shooting was again key for the Knights to pull out the win, canning 6-of-8 charity tosses in the final two minutes to pull away from the Pirates.
Broersma scored all three of his points for the game in those final two minutes, as Pomeroy was able to hold the big man in check.
"They had two 6-6 kids on him," Bosma said.
The Knights, though, were able to punch their ticket to the championship with help from Brant Bosma, who stepped up with 11 points and five rebounds. Brouwer paced the Knights with 14 points and six rebounds.
Sunnyside Christian (27-2) then won their 19th straight game this season against Neah Bay to make this a championship season.
Bosma, a first-year head coach for the Knights, has already been greeted at the store and neighbors have popped by his home to offer congratulations on the title.
But he gives credit to his team its three seniors in particular; Broersma, Brouwer and Drew Puterbaugh.
"Each one of them played a vital role," Bosma said. "Alex with his ability to control the pace, Brandon on defense and Drew with his work ethic and blue-collar style."
The coach appreciates their contributions...but he's not quite ready to bid them - or this championship season - goodbye.
"We're not thinking about that (next year) yet," Bosma smiled. "We're going to enjoy this for awhile."