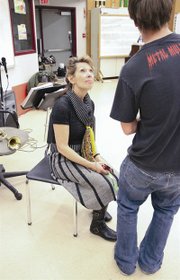 GRANDVIEW - As a young adult ready to enter the "real world," Melanie Manship wanted to become an actress.
"I never wanted to become a teacher, it was my parents' idea and I told them they were crazy," the 30-year Grandview teacher said.
After agreeing to go to college, Manship decided to study for a radio broadcasting degree.
"I thought it would give me more flexibility to take more theater classes," she added.
But after having children and volunteering in their classrooms, the idea of becoming a teacher became more appealing.
"It's a great job if you have kids and want the same vacation as them," Manship said.
So, she set out back to school and got her teaching degree.
Manship traveled the world as she grew up in an army family. But after moving to Grandview with her husband, she's been here ever since.
"Even though I didn't want to be a teacher as a young 18-year-old, I've loved it for 30 years," Manship added.
This once aspiring actress has taught Grandview's middle and high school students English, reading and drama.
At the end of this school year, however, Manship plans to retire.
High and low
Manship says though she loves teaching, she'd like to retire early enough to be able to travel and see sights she hasn't had the time for while being a busy teacher.
She says the past 30 years of teaching in Grandview have been great. It's had its challenges, too.
"But the kids are what always brought me back," she added.
Adding notches to her career belt, Manship also coached volleyball and softball teams and once taught a journalism course.
Over the past 30 years teaching Grandview students, Manship says she's had several highlights of her career, but one memory still brings tears to her eyes.
Elva Trevino-Hart, an author who wrote about the life of an immigrant child, came to speak with Manship, her students and their families just three years ago.
Before that, Manship pushed for Trevino-Hart's book to be taught as part of her reading class curriculum, and once it was, she says the students began to open up. So having the author come to speak about her trials and experiences as she moved around with her immigrant family was the highlight for students and parents who were able to relate.
Manship remembers Trevino-Hart's visit like it was yesterday.
"The kids threw her a fiesta and a mariachi band performed," she said wistfully.
The author taught students and parents during a workshop on how to open up about their experiences and how to push past shy, hesitant writing.
"As she spoke about those who were struggling to learn English, it was familiar (to the students), it's something they can relate to," Manship said.
Other highlights of her 30-year teaching career came to life when Manship explained that her middle school students used to submit articles to Merlin's Magazine. Sometimes her students were published, but the real surprise came when Manship was contacted by the publication and asked to be the star of a feature story about teachers who care.
There were low points over the past 30 years, too. But the lowest of all was when she became ill and wasn't able to be in the classroom or backstage for nearly six months.
Manship remembers this, too, with clarity. She says as her drama students were preparing to pull the curtain, she was hit with extreme pain in her face, the kind of unbearable pain no one would want to endure.
"I went home that night and I didn't come back for months and months," she said.
Through rest, doctor visits and surgery, Manship was able to recover from the neurological disorder that caused extreme pain in her face.
While away, however, Manship says her students stayed in touch, sending her notes and well wishes.
She couldn't wait to get back to the white board.
Bitter sweet
Manship says the end of this school year will be bitter sweet.
"I wanted to make it to 30 years of teaching, and then I decided I would retire," she said.
Though her students are what she'll miss most, Manship says she's excited to get to travel.
"Oh gosh, I want to see (friends and family in Texas), I want to see Broadway, I want to just travel," she said.
"I used to sew, maybe I'll sew again.
"I'll do things I don't have time to do now," Manship added. "I've got a list that's so long."