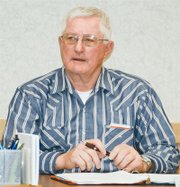 Given upheaval at city hall, Port of Sunnyside commissioners last night decided to decline the possibility of managing the Sunnyside Airport...for now.
The topic came up Monday night during port commissioners' regular meeting.
Executive Director Jay Hester told commissioners that during last week's Sunnyside Airport advisory committee meeting there was discussion about the possibility of pursuing an interlocal agreement to again have the port help operate the airport.
The port had been heavily involved with the airport for several years and were prepared to operate it until last July when then interim city manager Frank Sweet directed Sunnyside to run the airport without the port.
At that meeting last July, former mayor Mike Farmer assured the airport committee, which includes Port of Sunnyside representation, that Sweet would not allow the airport to fall into further ruin.
But things changed last month when Sweet was let go by a divided Sunnyside City Council and Farmer subsequently resigned his council post.
Last night Port of Sunnyside commissioners and staff expressed a desire to be supportive of the city's efforts to improve the airport.
But they decided to not pursue another interlocal agreement with the city to help manage the airport.
At the same time, commissioners expressed support and the possibility they may consider an interlocal in the future.
"Let's leave things where they are," said Port Commissioner Jeff Matson. "We'll help them in any way we can, but let's wait until they have a permanent city manager."