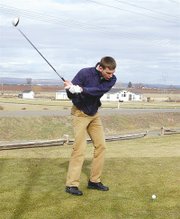 It was the first time out for Grandview, Mabton, Prosser and Sunnyside's high school golfers yesterday, providing the coaches an opportunity to see the youngsters in action on the links.
Grandview Coach Dave Uggetti said temperatures were in the low 40s and the wind was a factor at Black Rock Creek Golf Course.
Sunnyside Coach Gary Rohde said, "It was damp and cold...everyone came in raw and red."
Both were pleased with their players' scores, however.
Rohde said, "They were okay scores for the first time out."
It was Prosser's Taylor Gant and Grandview's Kayla Lucas that ended the day as medalists.
Just two strokes separated Sunnyside's Chandler Luther and Gant. Gant scored 41 strokes, and Luther netted 43 strokes.
It was Sunnyside that had the lowest team score, tallying 180.
Luther's teammates Ian Heffron and Brandon Daley had a pair of 45s, while Nathan Meyer tallied a 47 on his scorecard.
Prosser's Anthony Underwood tallied 51, C.J. Hawley ended the day with a 52 and Justin Munn's scorecard had a 54. Prosser tallied a team score of 198.
Grandview's Matt Dailey had the lowest tally on his scorecard for the Greyhounds. He finished the nine holes with a 53, while teammates Dylan Parker, Sean Charvet and Henry Pond ended the day with a 57, 59, and 80, respectively.
Grandview's tally was 249.
The lone Mabton golfer, Josh Rodriguez had a 60 on his scorecard.
For the girls, it was Lucas' winning round of 56 that helped the Lady 'Hounds tally a 266.
Hannah Pond tallied a 66, Regan Colson ended the day with a 71 and Teagan Parrish was two strokes behind with a 73.
Prosser and Sunnyside did not field full teams for incomplete scores.
However, Lady Grizzly Ashley Davis had the best day for her team with a score of 61. Teammates Alyson Spidle and Jacque Kranz completed the course with a 68 and 71, respectively.
Prosser's two girls, Samantha Buckles and Cameron Holt tallied a 72 and 65, respectively.
The Sunnyside boys will on Monday, March 18, compete in Wenatchee. The girls will travel to Moses Lake on the same date.
The Grandview boys will next Monday, March 11, compete against Ephrata and Quincy in Ephrata. The girls will host Ephrata at Black Rock Creek.