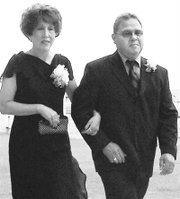 Joe and Donna Rodriguez of Outlook were married March 2, 1973 in Prosser, 40 years ago.
The couple has spent all of those 40 years living in the Sunnyside and Outlook areas.
Later this spring, the couple plans to hold a family gathering to celebrate their 40 years of marriage.
The couple has two children, Joey Rodriguez of Outlook and Chris Rodriguez who lives in Grandview with his wife Vanessa.
Joe retired from the Sunnyside Les Schwab and currently is employed by Valley Auto Parts. Donna is a life-long domestic engineer.