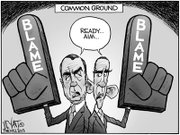 Nearly 10 million Americans have their identities stolen each year, according to the U.S. Federal Trade Commission (FTC), which is charged with protecting America's consumers.
Identity thieves use personal information such as your credit card numbers, social security number, telephone number or other account information in order to gain access to your financial accounts and conduct fraudulent activity.
Oftentimes, the ramifications of these actions can be financially disastrous for you and your family and they can be extremely difficult to resolve. Here are some simple steps to protect your privacy and prevent someone from stealing your identity.
Protecting Yourself Online
The internet is a resource that most people have come to depend upon every day for information, buying goods and keeping in touch with friends and family.
However, some people have found ways to use the internet to cause harm.
Threats such as computer viruses, spyware and other malicious software can threaten your personal information and privacy, as well as the security of your computer system.
Simple steps, such as keeping your virus software up-to-date and password protecting your home wireless network can help secure your online activity.
In addition, remember not to provide personal or financial information, usernames, or passwords in response to an e-mail. Reputable companies typically do not request your personal information this way and it may be a scam.
Securing Your Credit From Identity Theft
Credit is much more than a piece of plastic and a monthly bill.
The ability to buy a home or car, secure a loan and purchase insurance is all impacted by your credit.
However, most consumers are not aware of the information in their credit report. Thanks to the "Fair Credit Reporting Act" that passed congress several years ago, all Americans have access to a free credit report annually from each of the three largest national credit bureaus each year.
This law increases the effectiveness of consumer activated fraud alerts, enables consumers to block fraudulent information in their records and requires financial institutions to red-flag signs of identity theft in a more timely manner. If you are interested in obtaining a free credit report, call 1-877-322-8228 or visit www.annualcreditreport.com.
Stopping Unwanted Telemarketing Calls
Ten years ago, congress passed the "Do Not Call Implementation Act," which gave Americans the power they need to stop telemarketers from harassing their households.
Consumers wishing to put a stop to telemarketing calls can register their telephone phone numbers, including mobile numbers, on the national Do Not Call Registry at no cost.
As a result, commercial telemarketers are not allowed to call you if your number is listed on the registry. If you do not wish to receive calls you can register your telephone number for free online at www.donotcall.gov or by telephone by calling 1-888-382-1222 from the number you wish to register.
For more information on credit reports, identity theft, or to register a complaint, please visit the Federal Trade Commission's website at www.ftc.gov or by calling toll-free, 1-877-FTC-HELP.
- U.S. Congressman Doc Hastings (R-Pasco) represents Central Washington's Fourth Congressional District.