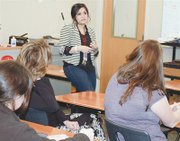 The script was flipped earlier this week when a dozen Gonzaga University school counselor interns learned from Sunnyside High School students about progress at SHS.
There were more than a few oohs and aahs from the Gonzaga students when SHS migrant student mentors Javier Serna and Liliana Rangel shared the high school's graduation rate rocketed from 49 percent in 2008 to 80 percent in 2012.
Rangel, a senior, said one of the big differences is that teacher-student communication has improved greatly. When a Gonzaga student asked for an example, Rangel noted that in the past if students had questions about an assignment they would ask one another for help. Now, she say, students approach their teachers directly for help.
Rangel also praised the fact that more teachers are staying after school to assist students needing extra help. "They don't leave right after school," she smiled.
Serna, a junior, joined Rangel in praising other positive steps that have helped the graduation rate. He noted that SHS now has higher expectation, with an average of 78 (a C+) needed in order to enjoy a 50-minute lunch instead of a 30-minute lunch.
Alejandra Bobadilla guides the migrant student leadership program at SHS and graduated in the school's class of 2008.
"When I look back at that number, half of my classmates didn't graduate," Bobadilla told the Gonzaga students. "It was kind of the norm, we didn't think much of it."
Bobadilla added that back then the focus was on getting students to have at least an average score of 60 in their classes, the bare minimum needed to pass.
The bar is raised now, she says, as a grade of 78 is expected. "The students have responded well," said Bobadilla. "When they see that a C+ is expected, they think why not try for a B."
Josh Eidson teaches the leadership classes at SHS, and says the Gonzaga/Sunnyside connection involves staff from both schools. It's a win-win proposition.
He noted students from SHS get to experience college life at Gonzaga during trips to the university. In fact, Eidson added, biology students from Sunnyside actually get to work at Gonzaga's lab during visits to the university.
In turn, Gonzaga students, like the interns visiting this week, get to learn first-hand from high school staff and students about trials and successes.
Eidson says that includes hearing about how migrant students have had to overcome serious obstacles to succeed at school.
SHS students, he says, enjoy the opportunity to tell those stories.
"It gives the kids a chance to take pride in what they are doing," Eidson says.