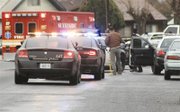 An Outlook man is dead after allegedly pointing his gun at Sunnyside police yesterday. Sunnyside Police Department officials say at around 4 p.m. yesterday, Wednesday, officers received a call reporting a man with a gun near the 1100 block of Tacoma Avenue, next to TW Market.
As officers arrived, they say they saw the man near a phone booth with a gun. Officers say they observed him firing the gun.
Officers then took up defensive positions and say they ordered him to drop the gun. Later identified as 27-year-old Ramon Ayala of Outlook, he allegedly pointed the firearm towards a Sunnyside officer. The police officer responded by shooting Ayala.
Ayala was transported to Sunnyside Community Hospital, where he was pronounced dead a short time later.
Following the incident, the area was blocked off and the Washington State Patrol was contacted and asked to conduct an investigation on the matter.
"This is our policy whenever an officer is involved in a shooting," said Sgt. Joey Glossen in a Sunnyside Police Department release given to the press this morning, Thursday.
The officer, who officials are not naming at this time, is on paid administrative leave in accordance with policy, pending completion of the investigation.
Officials also noted the incident is not believed to be gang related.
Glossen said the Sunnyside Police Department will release additional information as it becomes available.